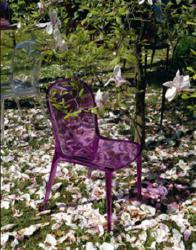 Sacramento, CA (Vocus/PRWEB) April 01, 2011
Lumens.com announces its Spring Kartell Sale from April 1-10, offering a discount on select indoor/outdoor furniture from the Italian manufacturer. For 10 days only, customers can save 20% on select furniture, including designs from renowned designer Philippe Starck.
Kartell is known around the globe for its vibrant, original polycarbonate pieces, and their plastic makeup makes them versatile for both indoor and outdoor living. With an outdoor collection of chairs, tables and furnishings in bright, vibrant colors, Kartell furniture makes the perfect outdoor addition for spring. Working with coveted contemporary designers like Starck and Patricia Urquiola, Kartell's signature pieces are lively and modern. made from colorful and transparent plastic. Best-selling indoor/outdoor pieces in the Kartell sale include:
Victoria Ghost Chair: A favorite from Philippe Starck, the Victoria Ghost Chair is made from Kartell's signature polycarbonate and available in 10 bold colors.
Frilly Chair: From designer Patricia Urquiola, the Frilly Chair was born from the idea of an industrial sculpture transformed into an ergonomic shape. The transparent, bright tints give it the signature Kartell look while the polycarbonate makes it durable for outdoor seasons.
Prince AHA Stool: Another design from Philippe Starck, the Prince AHA acts as both a stool for seating or as a side table. Composed of two cones resembling the shape of an hourglass, the polypropylene stool is durable, weather resistant, and can be stacked up to 6 high.
Jolly Side Table: A small and transparent side table of perfect dimensions for use and transport. The transparent, rigid acrylic has weather-resistant features and anti-scratch properties, making it a great option for indoor and outdoor use for residential and commercial spaces. Designed by Paolo Rizzatto.
Masters Chair: Featured this week in the New York Times, this design from Philippe Starck and Eugeni Quitllet was created to pay tribute to three contemporary design icons: the Series 7 by Arne Jacobsen, the Tulip armchair by Eero Saarinen and the Eiffel Chair by Charles Eames. The overlapping lines in the chair's back are outlines of these three famous designs. Made of outdoor-friendly polypropylene, the Masters Chair is also included in the Kartell sale.
Lumens offers a full range of Kartell designs, including suspension lights, pendants, sconces, bookshelves, storage containers, tables and a wide variety of accessories.
In addition to the discount offered in Kartell's Spring Sale, Lumens.com also offers:
-Low-price guarantee
-Expert service via our customer service center
-Easy, no-hassle returns
-Volume order discounts
-More than 300 manufacturers, from contemporary lighting to transitional fixtures and modern furnishings, gifts and home accessories.
For additional information on Kartell or this exclusive offer from Lumens.com, contact Sarah Schaale or visit lumens.com.
About Lumens Light + Living:
Lumens Light + Living is dedicated to offering the very best of design-oriented lighting, fans and home accessories, from the most contemporary international designs to modern interpretations of classic design.
Contact:
Sarah Schaale, Assistant Marketing Manager
Lumens Light + Living
916-444-5885
http://www.lumens.com
# # #