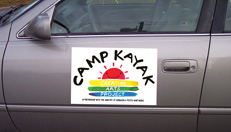 "Whenever I have a printing project with tight deadlines and budget restrictions, I turn to 4OVER4.COM because I can trust them to deliver quality prints at highly affordable rates within my deadline period. They never disappoint and I will recommend them
Astoria, New York (Vocus/PRWEB) April 01, 2011
Online printing business 4OVER4.COM , the popular New York Printing firm, recently announced that it has added Car Magnet Printing to its wide range of printing services which it offers through its website. The new Car Magnet Printing service will satisfy the large demand for magnetic print products for automobile applications, especially car door signage for marketing and advertising. The heavy duty 30 mil magnets come in numerous sizes and are very affordably priced starting at just $40.00 for a set of two 24 inch by 9 inch magnets.
4OVER4.COM is an online printing company that runs a web-based print ordering and processing facility which allows customers to place printing orders online through their website, upload design files and receive free full-color proofs prior to committing to make a purchase.
Car Magnet Printing involves printing on a magnetic medium designed for use with automobiles. This is a growing area of interest for designers of advertising and marketing campaigns. Cars are ubiquitous and it is quite common to see printed designs on the bodies of cars. The car magnet designs are more three dimensional and give a stand-out effect that makes them more realistic and eye-catching than ordinary printed designs.
Car magnet prints can be used to drive successful advertising or marketing campaigns aimed at particular audiences – especially young audiences, who will appreciate the wow-effect they create when they are attached to cars in motion. The magnets are also ideal for applications where a permanent design is not the ideal solution, such as when using a vehicle for business as well as personal use intermittently.
4OVER4.COM car magnet prints come with Hi-Gloss UV coating that offers increased resistance to weathering effects – so they are more durable and create a longer-lasting print that does not weather easily, and are therefore a good investment for the long term.
4OVER4.COM also uses heavy duty magnets that can be adapted for a variety of uses apart from car door signage which is the primary use of the printed magnets. Some of those other uses include temporary signage for construction sites or other rapidly changing work environments that require putting up signs to direct work activities.
4OVER4.COM car magnet prints are affordable and easy to acquire through the company online printing interface. A customer simply needs to go to the website and place an order that will be ready for pickup within 48 hours.
Quoting a company spokesperson when asked about expectations for the new car magnet printing service:
"Car magnet printing is a new addition to our quality printing services at 4OVER4.COM. There is a growing demand for car magnet prints, and we decided to step in to bridge the gap for our customers. In doing this, we ensured that we packaged our new car magnet printing service with the same high quality and low prices our customers are used to. We also utilized the best materials and a carefully controlled process to ensure that our car magnet prints last longer and give our customers satisfaction and more value for money."
4OVER4.COM continues to roll out new services to satisfy the ever-increasing need for innovative print mediums, products and solutions. The move by 4OVER4.COM to introduce a new service offering is indicative of its objective to continue to provide quality and innovative printing services and solutions to satisfy present and future needs and demands. The company ships nationally but also has been printing New York businesses affordable print products available for local pickup since 1999.
The company is well known for its low prices, high quality prints, vast range of printing products and mediums, as well as the convenience that it provides its customers through its web-based print processing system. They are also famous for super fast production times and even have same day turnaround available for orders that meet certain criteria.
Here is what some satisfied 4OVER4.COM customers had to say about their service:
"4OVER4.COM is my preferred printing provider not only because of the high quality of printed products and really low prices you get from them at the end of the day, but also because of their process which really saves time and money. You can go online to their website, order your prints and get your work done in 48 hours or less, it's amazing."
"Whenever I have a printing project with tight deadlines and budget restrictions, I turn to 4OVER4.COM because I can trust them to deliver quality prints at highly affordable rates within my deadline period. They never disappoint and I will recommend them any day."
With reactions like these, it is no wonder that 4OVER4.COM continues to grow in popularity, and it is expected that the move by the New York Printing company to include Car Magnet Printing as part of its service offerings will be welcomed by the large number of satisfied 4OVER4.COM customers who currently enjoy its brochure printing, poster printing, custom labels, canvas prints, booklet printing, and postcard printing services among others.
The new car magnet printing service from 4OVER4.COM provides New York residents and other 4OVER4.COM customers with a trusted print provider they can go to for high quality and timely solutions for all their magnetic car print needs.
As an online printing company, 4OVER4.COM provides this service through their website, and customers can conveniently order their car magnet print jobs from the comfort of their homes or offices by simply visiting the 4OVER4.COM website.
About 4OVER4.COM
4OVER4.COM is a Green Printing Company based in Astoria, New York, and one of the first online printing companies in the United States. 4OVER4.COM provides unmatched technical and customer support and instant online pricing and ordering for full color printing services. Since 1999, 4OVER4.COM has offered free expert file review and free online proofs without any obligation to purchase. As a company, we are strongly oriented towards sustainable environmental renewal, and we are happy to lead the way with environmentally and socially responsible printing practices and projects.
http://www.4over4.com/postcards.aspx
# # #