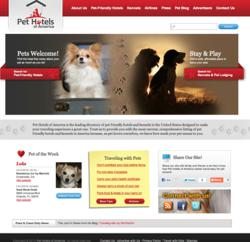 Pet Hotels of America makes travel planning for pet owners easy. In addition to listings for pet friendly hotels, airlines and car rental companies, it also has listings for kennels, pet hotels and doggie daycare facilities.
Rancho Santa Margarita, CA (Vocus/PRWEB) April 13, 2011
The launch of Pet Hotels of America is seeing a significant upswing in reservations for pet-friendly hotels, airline flights and car rentals as pet owners discover that making summer travel plans can be done from one website.
"Pet Hotels of America is the only website from which people traveling with pets can create a complete travel package that includes making flight, hotel and car rental reservations, plus finding a nearby kennel or daycare facility," said Steve Wiideman, chief marketing officer, Pet Hotels of America.
Although the website is fairly new, it is quickly making its mark in the travel world because of its easy navigation, direct booking capabilities and massive information center on all things pet and pet-travel related.
"We are seeing an upsurge in hotel reservations because we can offer some of the best rates online for pet-friendly hotels," said Lisa Porter, CEO, Pet Hotels of America. "Additionally, many people that want to travel with their pet, but occasionally may want to visit a not-so-pet-friendly establishment, may also find a nearby kennel in our directory. The kennel and pet hotel list is growing substantially, as advertisers can list their kennel or pet hotel on the Pet Hotels of America website inexpensively. This makes for a one-stop website offering complete travel planning services that benefits everyone."
The number of people traveling with pets is on the rise. Since its launch, the website has increased its website traffic exponentially, by people from all over the world searching for pet hotels in America.
Pet Hotels of America also serves as a great place to find fun things to do in America's cities. Its blog, Paws & Claws Daily News, is an information resource covering everything from things to do in dog-friendly cities from San Diego to Orlando, to great hiking trails in Washington. Its renowned bloggers offer travel tips, pet nutrition suggestions and other relevant information helpful to pet owners.
The website also offers a Pet of the Week giveaway. Uploading a pet photo and brief summary of activites the pet likes to do gives submitters a chance to win a $20 to $250 PetSmart e-gift certificate.
Pet Hotels of America visitors also will enjoy an assortment of funny pet-related videos and, on a more serious note, listings and videos of rescue dogs waiting for a home.
For more information on Pet Hotels of American, please visit http://www.pethotelsofamerica.com or call (877) 375-1946.
###