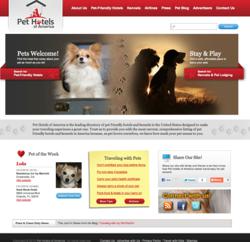 Find a kennel, pet hotel or pet resort easily in U.S. cities. An extensive listing of pet-friendly hotels, airlines and car rentals makes Pet Hotels of America the premiere pet-friendly travel planning website.
Rancho Santa Margarita, CA (PRWEB) April 27, 2011
Travelers searching for the perfect pet-friendly hotel from San Diego, California to Orlando, Florida can now find it on Pet Hotels of America. The website offers some of the lowest pet-friendly hotel rates online plus reservation capabilities for airlines and car rentals.
Pet Hotels of America also provides pet owners a complete listing of kennels, pet hotels, pet resorts and doggie daycare facilities. This makes for easy travel planning for those that want to take their animals on vacation or business trips.
"Pet Hotels of America is the only website from which people traveling with pets can create a complete travel package that includes making flight, hotel and car rental reservations, and finding a place to put their pet on occasions when they want to go somewhere pet free," said Steve Wiideman, chief marketing officer for Pet Hotels of America.
The website is making headway in travel circles because if offers so much in one place and it's easy to use. Its direct booking capabilities and massive information center on all things pet and pet-travel related make for easy planning for owners.
"We are seeing a huge increase in hotel reservations because of our low pet-friendly hotel rates at some of America's finest facilities and accessibility to all things that help travelers plan their trips," said Lisa Porter, CEO, Pet Hotels of America. "People love us because they no longer have to search through a massive number of websites and reference magazines to find what they need."
The site has gained clientele from Asia to Australasia, as the desire to take pets along on the family vacation becomes more popular.
"Our goal was to make traveling with pets in America easy," said Porter. "We've accomplished this because from our website, people can create a complete travel package in only a few minutes."
Pet Hotels of America's blog, Paws & Claws Daily News, brims with fun places to visit that are pet friendly, advise on traveling with pets, America's best dog parks and beaches and much more. Its renowned bloggers provide readers with unlimited information about pet nutrition, best places to travel with pets, and other relevant information useful to pet owners.
As a way to give back to the pet-lover community, Pet Hotels of America has its 'Pet of the Week' giveaway. By uploading a favorite pet photo and brief depiction of cute or playful activities the pet enjoys gives submitters an opportunity to win a $20 to $250 PetSmart e-gift certificate.
Pet Hotels of America visitors also enjoy an assortment of hysterically funny videos of pets doing the things that make viewers laugh out loud, and on a serious note, listings and videos of rescue dogs waiting for a family to care for them.
For more information on Pet Hotels of American, please visit http://www.pethotelsofamerica.com or call (877) 375-1946.
###