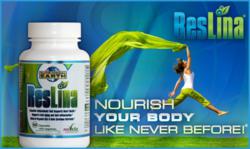 Chino Hills, CA (Vocus/PRWEB) April 01, 2011
Nutritional Earth announces the launch of Reslina, a high potency trans resveratrol supplement capsule with organic spirulina. Reslina is a powerful antioxidant / polyphenol supplement with the blend of trans resveratrol and spirulina of the purest quality. Reslina contains natural and organic ingredients.
This trans resveratrol / polyphenol nutritional supplement is made with resVida trans Resveratrol, the first trans resveratrol tested for safety with human studies, combined with muscadine grape a rich source of antioxidant / polyphenol and other nutrients. Each capsule contains 200mg of pure trans resveratrol along with 500mg organic enriched spirulina a whole food nutrient. This nutritional supplement requires only two capsules a day to archive the best antioxidant protection available to support heart health, anti aging and joint inflammation while aiding mental clarity.
Resveratrol is the antioxidant nutrient found in red wine where scientific and research studies show promising effects where resveratrol may protect the body from aging effects of free radicals and oxidative stress that can lead to premature aging of cells. Resveratrol can also be found naturally in peanuts, berries, grapes, grape skin, grape seeds and Japanese knotweed. Resveratrol has been shown in concentrated form to activate human genes responsible for longevity, muscle and heart health. Because the resveratrol found in red wine is low in concentration, the amount needed to significantly activate human genes exceeds the amount of wine that would be healthy for a person to drink. With many types of non assimilating and low quality resveratrol on the market today, Nutritional Earth elected to use the highest quality trans resveratrol which is resVida trans resveratrol from DSM Nutritional Products.
According to Marion Haggins, Nutritional Earth's president, "We elected to use resVida trans resveratrol due to its complete safety dossier and high Generally Recognized As Safe (GRAS) status, with data that demonstrated heart health benefits in humans. We looked at several resveratrol companies to determine which resveratrol was the best quality for Reslina. DSM's commitment to high safety standards was our choice."
About ResVida Trans Resveratrol: ResVida, manufactured by DSM Nutritional Products, is the leading trans resveratrol dietary ingredient with self-affirmed GRAS (Generally Recognized As Safe) status by the FDA. ResVida is 99 percent pure and free from pesticide and herbicide residues.
For more information, please visit: http://www.nutritionalearth.com
About Nutritional Earth: Nutritional Earth is a nutritional supplement industry pioneer. We have formulated our products using scientific facts and research studies to deliver the best nutritional supplements at a fair price. Whether it is, heart health, natural or organic whole food nutrition or just living a healthier, better life, Nutritional Earth is a company you can trust.
For inquiries please contact:
Marion Haggins Jr. President
15942 D Los Serranos C.C. Dr. #341
Chino Hills, CA, 91709
Office: 888-504-7117
Direct: 909-851-8547
Email: info (at) nutritionalearth (dot) com
###