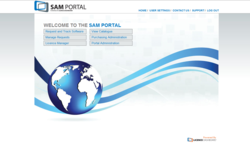 With SAM Portal, organisations can manage and maintain their software catalogue, determine requirements, acquire licences and ensure they are compliant, reducing administrative effort and ultimately saving them money."
UK (Vocus/PRWEB) 4 April 2011
Licence Dashboard Ltd, the developers of the UK's leading software asset management tool, has launched SAM Portal, a comprehensive, end-to-end solution to help organisations record and manage software licence agreements.
Powered by one of the world's leading software licence management system, Licence Dashboard™, SAM Portal helps organisations to avoid unnecessary expenditure on software licences and reduce the risk of non compliance by ensuring that they have the correct number of licences for their software, as well as saving them time and administrative effort.
Sean Robinson of Licence Dashboard said:
"With software now taking up an ever-increasing share of IT budgets, it has never been more important for organisations to make sure that they effectively manage, control and protect their software assets.
"This is incredibly time consuming and difficult to do manually, and without adequate SAM software, organisations risk losing track of their licences, which can prove to be very costly in the long term. Many companies end up purchasing far too many licences, which is hugely wasteful. Similarly, companies which own too few licences are at risk of incurring large retrospective fees from software companies, should they be investigated and found to be exceeding their entitlement.
"With SAM Portal, organisations can manage and maintain their approved software catalogue, determine requirements, acquire licences and ensure they are compliant, all from a single programme, reducing administrative effort and ultimately saving them money."
SAM Portal features an intuitive and easy-to-use interface and real time management, so users always know how many unused licences are available. In addition, it maintains a database of all licence evidence, ensuring that all proofs of purchase and contracts are protected and maintained.
Built-in reporting software also allows users to provide a detailed analysis of an organisation's software compliance status, cost savings made and areas of risk.
For further information on SAM Portal and Licence Dashboard, visit http://www.licencedashboard.co.uk or call 0845 265 1217.
Licence Dashboard Ltd is a software development company specialising in solutions and services that enable organisations to take control of their software assets. The company develops technologies which help companies to deliver compliance and carry out a successful Software Asset Management (SAM) programme.
Fully aligned with the new international Software Asset Management standard (ISO/IEC 19770-1), Licence Dashboard Ltd offer products and services designed to help organisations execute a full IT Asset Management (ITAM) approach to Desktop Management and then, using Licence Dashboard™ SAM Portal and Dashboard Discovery™, deliver on this new ISO standard.
###