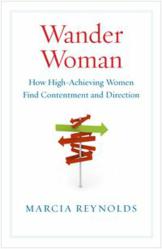 "This is one of the best books I've ever read about women," Beate Heller, PhD, Group Head-Executive Development, Swisscom, Berne
Traverse City, MI (Vocus/PRWEB) April 01, 2011
Wander Woman: How High-Achieving Women Find Contentment and Direction by Marcia Reynolds (Berrett-Koehler Publishers) wins the gold Axiom Award in the category of Best Women in Business Book.
Marcia Reynolds, PsyD, discovered a lack of resources for the growing number of confident women who want to accomplish great things.
"Few books are written for smart, strong women who frequently cope with a number of personal struggles as they try to pursue their endless goals," noted author, Marcia Reynolds.
In response, Dr. Marcia Reynolds wrote Wander Woman: How High-Achieving Women Find Contentment and Direction (Berrett-Koehler, 2010) for women who are constantly searching for "something more" yet face self-made roadblocks along the way. The book is based on her solid research and her experience as an internationally renowned leadership coach to top performers and executives. This book provides practical exercises, powerful questions, and case studies to help a wander woman channel her restless energy into a more focused, fulfilling, and truly successful path.
"This is one of the best books I've ever read about women: it really helps to legitimize our journey and turn our restlessness into a strategy. It is also an important read for all women, and men, who work with women now and in the future," Beate Heller, PhD, Group Head-Executive Development, Swisscom, Berne
Wander Woman: How High-Achieving Women Find Contentment and Direction addresses topics including:
1. Is this you? What characterizes a "wander woman" and why this is a growing phenomenon around the world.
2. The 5 factors that drive women to be top performers but also hinder their professional development.
3. Two steps for identifying your competitive advantage to help maximize growth within an organization.
4. A process for developing one's "selves concept" to improve influence and strengthen relationships at work.
The topics are addressed through the expertise of Marcia Reynolds' deep experience with coaching, leadership, and women in business and her academic background which includes a doctoral degree is in organizational psychology with a research emphasis on the challenges and needs of women in today's workplace. Marcia Reynolds acts as a "thinking partner" with her clients as they make critical decisions and strengthen relationships in their complex and evolving workplaces. She coaches both individuals and executive teams, speaks at conferences and teaches leadership classes around the world. Her books have been quoted in many places including Harvard Management Review, Forbes.com, CNN.com, Psychology Today and The New York Times and she has appeared on ABC World News. Marcia was the 5th president of the International Coach Federation. And now, her newest book, Wander Woman: How High-Achieving Women Find Contentment and Direction , wins the gold Axiom award in the category of Women in Business Books.
The Axiom Business Book Awards are intended to bring increased recognition to exemplary business books and their creators, with the understanding that business people are an information-hungry segment of the population, eager to learn about great new books that will inspire them and help them improve their careers and businesses.
Contact:
Dawn Baron
Authors With Impact c/o Passion Profits Consulting
703-434-9306
http://www.passionprofitsconsulting.com
###