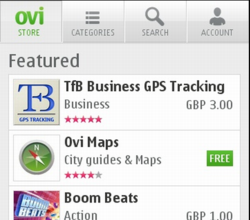 We understand that getting businesses to download apps in the same way that consumers do will take some work so this top position on The OVI Store is excellent news.
Ipswich, UK (PRWEB UK) 4 April 2011
Panaramix Ltd, based in the U.K. launched the first in the 'Tools for Business' apps range targeting small businesses recently on Nokia's OVI Store.
For a limited period customers that download the GPS Mobile Tracking Application from the OVI store will also benefit from a range of additional features at no extra cost:

Workload planning tools
Delivery of workload / jobs to target mobile phones
Live job updates via mobile including status and notes
Complete job audit reporting
Mobile time sheets
Flexible reporting tool
Currently focusing exclusively on Nokia devices but with Android and Blackberry versions due for release shortly this app can instantly provide businesses of just about any size, a range of real efficiency benefits at a price that the smallest of businesses can easily afford.
Keith Varty, Head of Apps, Nokia UK said "The OVI Store offers apps for everybody. The Panaramix Tracker is a great example of our enterprise solutions that are there to help the SME. In this case, managers can improve productivity, whilst the employee benefits from improved security, which is great for the whole organisation."
Chris Everitt, MD at Panaramix adds "We are committed to providing simple, generic 'no fuss' solutions to global, time honoured business issues - those of reducing costs and producing more."
"By making our apps available only via download we keep our costs down, the price to the customer a fraction of anything similar and reduce the environmental impact of both our own and our customers business activities."
The product can be downloaded from the OVI Store and for more information on this new breed of mobile business applications visit the Tools for Business website.
Panaramix Ltd. offers low cost 'out of the box' mobile applications to businesses across the globe via its 'download only' policy.
Panaramix aims to penetrate global markets exclusively using low cost, online distribution of its apps to leverage the mobile device into a formidable 'real life' business tool whilst reducing the environmental impact of its own and its customer's business activities.
# # #