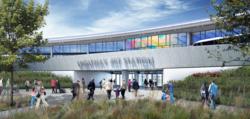 We look forward to engaging with the Toronto community in sustainable and progressive design. As our client base expands, so must we.
New York, NY (Vocus/PRWEB) 4 April 2011
Aedas, one of the largest architectural firms in the world, is expanding its award winning design services into Canada. It was announced today that Aedas Canada, the practice's Toronto office, has been established under the direction of local award winning architect, Walter Daschko, OAA, MRAIC, CaGBC, formerly Principal of Walter Daschko Architect, a community based Toronto practice.
Aedas Canada is the practice's 40th office worldwide and 1st in Canada. The Toronto presence reflects Aedas' tradition of growth, opening offices in the cities it works within, by establishing the Toronto office during the design of two new rapid transit stations, Highway 407 and Sheppard West, on the Spadina Subway Extension between Toronto and the City of Vaughan in Ontario, Canada for the Toronto Transit Commission (TTC). Both stations are integral to Toronto's "Transit City 2050" Masterplan. The Highway 407 Station provides a strategic interchange between private car park-and-ride, subway, express guided bus transit way and local bus services adjacent to Highway 407, reducing passenger circulation distances. Sheppard West will be an important intermodal station providing an interchange with the GO Transit regional rail service. This station— located within Parc Downsview Park, slated to be the first national urban park in the Greater Toronto Area— will be a gateway to the park, designed as part of the undulating landscape, within a planned area of low-rise offices and mixed-use development.
"I've always been dedicated to understanding my client's needs and aspirations, and creating buildings and spaces that meet and exceed them," said Walter Daschko, Director. "Aedas provides a remarkable opportunity to deliver this service but on an international scale."
Previously, Mr. Daschko was an Associate with Kuwabara Payne McKenna Blumberg Architects and du Toit Allsopp Hillier, two of Canada's top design firms.
Toronto is Aedas' sixth office in North and South America; the practice has existing offices in New York; Washington, DC; Seattle; Los Angeles; and Sao Paulo. In North America, the firm is currently the design architect for the National September 11 Memorial Museum at the World Trade Center, a member of the design team for the Smithsonian Institution's National Museum of African American History and Culture in Washington, DC and associate architect for Columbia University's Manhattanville campus expansion.
"Aedas Canada represents the logical extension of our core capabilities in the Americas," said Steven M. Davis, FAIA, Aedas Chairman of the Americas, "We look forward to engaging with the Toronto community in sustainable and progressive design. As our client base expands, so must we."
About Aedas
Aedas, the world's largest privately owned design practice, provides consultancy services in architecture, interior design, master planning, landscape, urban design and building consultancy in the Americas, Europe, Asia, and the Middle East. Our commitment and tenacity to improve the natural and built environment are reflected in our designs for all building types including civic, education, healthcare, transport, commercial, residential, sports, retail and industrial facilities. Aedas's commitment to address environmental, social and economic challenges through design excellence is central to the practice ethos and is executed through the practice's R&D Group.
Aedas was established in 2002 with the partnership of LPT Architects in Hong Kong and Abbey Holford Rowe in the UK to become Aedas LPT and Aedas AHR respectively. Following a merger with TCN Architects of Birmingham in 2003, the name Aedas was adopted for all areas of the practice with the LPT and AHR being dropped from the Hong Kong and UK practice names later in 2003. In 2006 Aedas partnered with Davis Brody Bond (now known as Davis Brody Bond Aedas), an award-winning American architectural firm with headquarters in New York. In 2008, Aedas merged with MEIS Architects of Los Angeles, a world-class design practice. In 2009 Aedas set up offices in Karachi with Aedas Ali Naqvi and in Turin through a partnership with Marco Visconti, chief designer of a number of Fiat and Ferrari buildings in Italy.
For further information please visit http://www.aedas.com
# # #