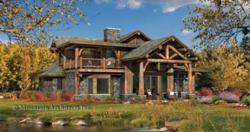 "This design concept illustrates how post and beam log homes can use a mix of materials, such as stone and siding, to give the final home an eye-catching look."
Meridian, ID (Vocus/PRWEB) April 04, 2011
The Huntington's smart layout and generous proportions make the most of its 3,034 square feet. Offering a unique combination of intuitive flow and defined spaces, the first floor of this handcrafted post and beam home serves equally well for large gatherings or more cozy pursuits. Its thoughtful design extends even to the less public areas of the house – a mudroom configured to accommodate several activities at once; the jumbo pantry that's tucked away but still convenient; the luxurious owners' suite. Mountain Architects has delivered once again on its expert planning and placement of outdoor living areas, too – more than 500 square feet on the first floor alone.
Upstairs, bedrooms two and three gain a measure of privacy thanks to the loft in between, and both enjoy access to the large covered balcony. At nearly 300 square feet, the balcony has a full roof and boasts its own stone fireplace – perfect for enjoying the outdoors even when there's a chill in the air.
Celeste Raygosa, Mountain Architects' design manager, said The Huntington's exterior is a lesson in mountain style.
"This design concept illustrates how post and beam log homes can use a mix of materials, such as stone and siding, to give the final home an eye-catching look," she said.
See The Huntington post and beam home plan and other unique designs by Mountain Architects, or browse a complete collection of luxury log homes and floor plans in our Log Home Plans Gallery. http://www.precisioncraft.com
# # #