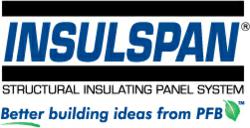 "Now, people interested in Insulspan SIPs for their energy efficiency can also rest assured that the product is safe in these quake-prone areas."
Meridian, ID (Vocus/PRWEB) April 05, 2011
Recognition for use in seismic design categories D, E and F was added to the listing, expanding Insulspan SIPs' compliance for shear wall applications to all seismic zones. Insulspan is the first SIP manufacturer to gain ICC-ES recognition for SIP shear walls used in these zones, which include costal South Carolina, the New Madrid fault zone in Missouri, and coastal California.
James Young, COO of Insulspan's parent company, PFB America Corp, said the updated listing benefits customers the most.
"The insulating value of SIPs has been recognized from coast to coast, but not everyone could use them." Young said. "Now, people interested in Insulspan SIPs for their energy efficiency can also rest assured that the product is safe in these quake-prone areas."
ESR-1295 also provides evidence that the Insulspan SIP System is a suitable alternative to methods of construction in the 2006 International Building Code,® the 2006 International Residential Code,® the 2007 Florida Building Code – Building, and the 2007 Florida Building Code – Residential.
Two other updates address transverse load values. To learn more about the updates, read the full report.
Located in Blissfield, Mich. and Delta, British Columbia, Insulspan designs and produces pre-cut SIP units that are ready to install as wall, floor or roof components suitable for residential and commercial building applications. Insulspan products are manufactured under factory-controlled conditions with third-party certification provided by Intertek testing services, and the Insulspan quality assurance program is certified ISO 9001:2008. To learn more visit http://www.insulspan.com
# # #