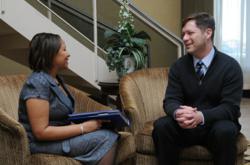 While employment news is looking up for many Americans, the prospects for government workers may not be as promising, particularly in local government.
Minneapolis, MN (Vocus/PRWEB) April 04, 2011
The March Employment Situation Report released today by the U.S. Bureau of Labor Statistics stated that nonfarm payroll increased by 216,000 during the month, and much of that gain was experienced in the private sector. However, those seeking local goverment employment may have more difficulty, according to Rasmussen College career experts; 14,000 government jobs were slashed in March.
Many of the new jobs created in March were in business fields including 17,000 new jobs in durable goods manufacturing, 18,000 jobs in retail trade, 36,000 jobs added in employment services, and 20,000 jobs in accounting and bookkeeping. Technology jobs continue to increase; 6,400 new jobs were added in computer systems design. In addition, the healthcare industry, which continues to grow healthily, added 37,000 new jobs in March.
"While employment news is looking up for many Americans," said Tamryn Hennessy, National Director of Career Development at Rasmussen College, a career-focused college offering degrees online and on campus, "the prospects for government workers may not be as promising, particularly in local government. Employment decreased by 14,000 for government jobs."
According to the Bureau of Labor Statistics, government employment has been trending down since the economic peak in September 2008. More than 400,000 jobs have been lost in local government alone since 2008.
Although the unemployment rate continues to decrease, there is still a disparity in employment based on education level.
"The last quarter has been promising for people with college degrees," Hennessy said. "Unemployment for people with Associate's degrees or some college experience dropped half a percent over the past three months, and it dropped from 4.8 percent to 4.4 percent for those with Bachelor's degrees or higher. The unemployment rate for those with only a high school diploma is 9.5 percent, and our prediction is that unemployment will continue to be a concern for those without college credentials."
For additional information about Rasmussen College, visit http://www.Rasmussen.edu. You can review this release and others by visiting http://www.rasmussen.edu/press-release/2011-04-01/march-employment-report/.
ABOUT RASMUSSEN COLLEGE
Founded in 1900, Rasmussen College is a premier provider of educational experiences, dedicated to the growth and development of its students, employees, and the communities it serves. Accredited by the Higher Learning Commission, Rasmussen College offers Bachelor's degrees, Associate's degrees, certificates, and diplomas in fields with the greatest occupation opportunities to more than 15,000 students both online and through its network of 21 campus locations. By partnering with leading universities, Rasmussen offers opportunities to students beyond the Bachelor's level. The Rasmussen Partner Network gives students the opportunity to earn Master's and Doctoral degrees completely online, at their own convenience, from prominent universities around the country. To learn more about Rasmussen College, please visit Rasmussen.edu.
# # #