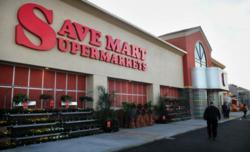 "When you have an incomparable and quality product such as a 100% Central California pomegranate fruit being produced as a wine, people are attracted and receptive to a new taste for their palate."- Daniel Bonilla Sales Manager
Fresno, CA (Vocus/PRWEB) April 04, 2011
Twin Pomegranates Wine, a Fresno wine company, has increased their distribution to Save Mart and Lucky's grocery stores. The store locations range from Chico to Bakersfield, California and into Reno, Nevada. In addition to Save Mart, Twin Pomegranates Wine secured a Southern California distributor in the San Diego area.
Twin Pomegranates Wine began selling their wines 17 months ago and Save Mart was their first retail location. They started stocking the wines in a few stores, and then began to distribute to almost all of the Central Valley's Save Mart locations. After a year of successful sales with Twin Pomegranates Wine, Save Mart saw an exciting opportunity to bring these wines into all retail locations.
"It comes as no surprise that in a little over a year we are exponentially growing our distribution throughout the state. When you have an incomparable and quality product such as a 100% Central California pomegranate fruit being produced as a wine, people are attracted and receptive to a new taste for their palate. I think there is a bright future for pomegranate wine as it eventually expands its availability throughout Save Mart and Lucky Stores." – Daniel Bonilla, Sales Manager Twin Pomegranates Wine.
Twin Pomegranates Wine produces a 100% Pomegranate Table Wine, a Pomegranate White Wine Blend, and a 100% Pomegranate Sparkling Wine. For more information about the wines please visit http://www.twinpomegranates.com, their Facebook Page or contact Public Relations Director Tori Kline (559) 901-6755 tori(at)twinpoms(dot)com.
# # #