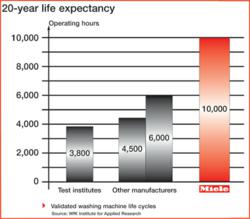 Oakland,CA (Vocus/PRWEB) April 20, 2011
Providing the ultimate in quality, convenience and peace of mind, Miele's Concierge Service redefines after-sale care. Miele's factory-trained technicians not only deliver and install their home appliances, they also provide new customers hands-on tutoring to ensure customers get the most out of their products from day one. Now until June 30, 2011 customers can also enjoy a 5-year warranty on their Miele appliances purchased at General Appliance.
Bay Area kitchen remodel and appliance retailer General Appliance of Berkeley in the #1 rated Miele appliance dealer in the San Francisco Bay Area, carries a long line of Miele appliances. For 30 years Miele has built a legendary reputation. All Miele appliances must endure a 10,000 hour endurance test, which equates to a life span of 20 years, before they can proudly carry the family name and before they enter any customer's home. Miele has earned a global reputation as the quality leader.
"Every Miele customer has the opportunity to take advantage of the unique customer satisfaction guarantee," said Ife Collins, director of marketing at General Appliance, the premier Bay Area kitchen appliance dealer. "Miele, being a family owned company like General Appliance of Berkeley, is committed to their customers' total satisfaction. After the installation of your new Miele dishwasher, if you are not convinced that the dishwasher is quieter and cleans better than your previous unit, Miele will refund the full purchase price of the product."
Miele offers a variety of appliances, which range from dishwashers; laundry units, vacuums, refrigerators, and induction cook tops. Miele's dishwashers are some of the quietest in the market: on a scale of 1-5, Miele's acoustic rating a 5. Using as little as 1.2 gallons, depending on the wash cycle. Miele dishwashers exceed Energy Star government energy standards by 35-50%. The water pumps, flow meters and spray arms and layers of insulation in their unique sound-proofing system are carefully engineered to provide the quietest, most advanced cleaning operation avaialable.
For more information about the 5 year Miele extended warranty limited time offer or any of General Appliance of Berkeley's other products or services, please call (510-987) 3719 or visit their website http://www.bayareakitchenappliances.com.
About General Appliance of Berkeley
General Appliance of Berkeley is a San Francisco Bay Area cabinet design and appliance and cabinet retailer that specializes in kitchen designs and remodels, kitchen appliance sales, and bathroom and kitchen cabinets and countertops. General Appliance has served the San Francisco Bay Area for 40 years, and their kitchen appliance professionals and cabinet designers each have at least ten years of experience at their location.
###