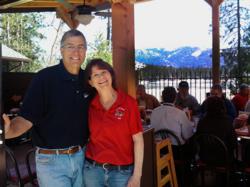 Burger's are better outside!
Bass Lake, CA (Vocus/PRWEB) April 02, 2011
The winter storms that dropped heavy snow and cut power to thousands a week ago are already a distant memory, as warm spring temperatures and the start of the season is bringing life to Bass Lake.
The Forks Resort actually opened last week despite the weather shutting power down to the area. Cooking their famous "Forks Burger" using generators, resort owner Leslie Cox said they actually saw business during that time, however the arrival of Spring has definitely boosted their business. "We saw a lot of people last week, but it's definitely much busier now that it actually feels like spring," she said.
The Forks is celebrating their 70th year this year, and are doing so with a new addition: a new outdoor dining area. "It's a full service dining area, so they get everything out here they would inside," said Cox.
"We needed more room and we've wanted to take advantage of the gorgeous views of Bass Lake for some time, so it seemed like a good move to make," she said.
A group enjoying lunch in the new area just after it opened seemed to agree. "Burgers are better outdoors," said Sandy McNally.
"They're always good, and better outside," said Lester "Curly" VanValen. "But they're better in my stomach," he said with a laugh.
Construction crews were still putting the finishing touches on the deck a few minutes before it's opening on Friday. The weather delayed them last week, as the heavy snow made it difficult to finish. Another addition will be completed soon, as an area for guests to tie up their dogs will open near the dining area, so they can eat while keeping an eye on their pet.
Just a few miles down the road, Miller's Landing Resort opened for their season on April 1, celebrating their 30th Anniversary. They too had a lot of business, as people were vying to get the first Miller Burger of the season. "We had one group come in this morning to get the first. A few minutes later another couple of people came in hoping they were the first," said Michelle Miller with Miller's Landing.
Both The Forks Resort and Miller's Landing are popular vacation spots on Bass Lake, voted one of the West's Best Lakes by "Sunset Magazine." They each offer rental cabins, boat rentals, and on site restaurant and more.
Upcoming events at Bass Lake include the annual Fishing Derby May 1 and the return of the Bass Lake Classic Triathlon June 4. For more events on Bass Lake and the rest of the area, visit http://www.YosemiteThisYear.com/events.
###