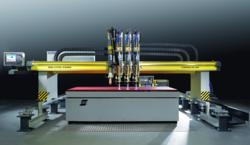 Florence, SC (Vocus/PRWEB) April 05, 2011
ESAB Cutting Systems introduces the COMBIREX™ DX Shape Cutting Machine for plasma and oxy-fuel cutting. The COMBIREX DX is a sturdy gantry with a high-stiffness beam design based on ESAB's larger gantry machines. It features the same precision linear rail and precision rack & pinion drives as its larger cousins, making it a tremendous value with excellent performance and reliability for small to medium fabrication shops and manufacturers.
The COMBIREX DX is one of ESAB's new global platforms incorporating modular design principles built from modular assemblies. It is the first of a series of machines that will be built in ESAB's new Florence, SC modular manufacturing facility. The machine will be built from off-the-shelf pre-assembled modules in a lean assembly line. This reduces the actual assembly and test time for a customized machine to less than one week. Customers will be able to order machines customized to their needs, within a fixed array of configurations, and have those machines built, tested and shipped in a four- to six-week time frame. The COMBIREX DX is an enhanced replacement for ESAB's popular Shadow DX gantry.
Designed for long service life and low maintenance requirements, the COMBIREX DX features digital AC drives and heavy-duty gearboxes. The rugged gantry can be equipped with up to four stations including one plasma station featuring ESAB's m3 Precision Plasmarc system that allows the machine to cut and mark with the same plasma torch. The plasma station includes a High-Speed Vertical Lifter with pneumatically balanced tool-tip sensing, encoder height for optimizing hole quality, and magnetic breakaway crash protection.
The rugged three-axis precision gantry features all-steel construction with machined mating surfaces and rides on triple-machined T-rails mounted to H-beam rail supports for a sturdy foundation and easy installation on any concrete floor. The machine reaches speeds up to 1,000 ipm (25,000 mm/min) and is available in cutting widths from 5' to 10' (1.5 m to 3 m) and working lengths up to 59' (18 m).
Standard equipment on the COMBIREX DX includes ESAB's Vision CNC. This control is easy to learn, easy to use, and features a built-in process database that simplifies plasma and oxy-fuel torch setup by automatically setting all parameters based on selection of material type and thickness. This integrates perfectly with ESAB's m3 plasma system, which automatically selects and mixes the optimal start, cut and shield gas combination. The operator sees a picture and part number for the torch parts that are needed for both plasma and oxy-fuel torches. The Vision CNC also provides network connectivity and USB support.
The COMBIREX DX is available with a choice of 200, 360 or 450 Amp m3 plasma systems. Each of these rugged power supplies is capable of 100% duty cycle and features CNC- controlled output current for improved starting and extended consumable life. Depending on the configuration, the system can cut carbon steel up to 2.5'' thick or stainless steel and aluminum up to 1.75'' thick.
The m3 system allows both cutting and marking on a wide range of materials and thicknesses. Only ESAB offers fully integrated process control with the plasma system, oxy-fuel gas control, laser pointer and any other process options all operated through the Vision CNC. As the technology leader in machine and process automation and the only total system supplier, ESAB is uniquely qualified to integrate the entire cutting process.By integrating machine motion control, cutting station control and complete plasma process control into the CNC, ESAB leads the way to higher productivity and lowest overall cost-per-part.
ESAB Welding & Cutting Products is one of the world's largest and most experienced manufacturers of welding and cutting equipment and welding filler metals. Recognized as the technological leader in the industry, ESAB is committed to providing cost effective solutions for its customers. For more information on the COMBIREX DX, visit http://www.esabna.com, http://www.esabcutting.com or call 1-800-ESAB-123.
# # #