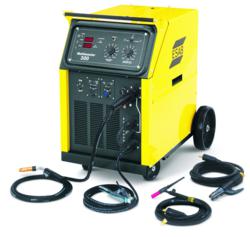 Florence, SC (Vocus/PRWEB) April 05, 2011
ESAB Welding & Cutting Products introduces the MultiMaster 300, an industrial ready-to-weld, multi-process package that offers superior welding performance for MIG, DC TIG and stick electrode welding. The Multimaster 300 is ideal for general fabrication, civil construction, repair and maintenance, and pipe welding.
ESAB's proprietary Super Switch™ technology features a high-speed solid-state power control that produces arc performance comparable to that obtained by considerably more complex and expensive power sources and also makes welding exceptionally easy. An output pre-set control with two digital meters allows quick set. A heavy-duty, four-drive roll stand supplies a v-groove drive for wires .035 in. (0.9 mm) and .045 in. (1.2 mm) in diameter. Multimaster 300 offers DC welding output from 15 to 300 amps at 40% duty cycle.
Other features include variable inductance control, fan on demand, a 250-amp torch, a convenient, large-capacity tool box, AutoFan® and a dual "easy-on" cylinder tray. The MultiMaster 300 can be configured to run with ESAB's Marathon Pak® wire for high production.
The package includes power source, built-in four-roll wire feeder, factory-installed undercarriage and cylinder rack, torch, contact tips, regulator/flowmeter, electrode holder and plug, and all necessary hoses and cables to make the machine ready to use right out of the box. The Multimaster 300 comes with a three-year warranty.
ESAB Welding & Cutting Products is one of the world's largest and most knowledgeable manufacturers of welding and cutting equipment and welding filler metals. To ensure customer satisfaction, many ESAB products carry a 100% Satisfaction Guarantee. Recognized as the technological leader in the industry, ESAB is committed to providing customized solutions for its customers. For more information on these products, visit http://www.esabna.com or call 1-800-ESAB-123.
###