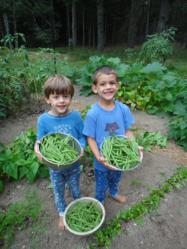 I believe people are craving to re-connect to the land, each other, and their food
Philadelphia, PA (Vocus/PRWEB) April 05, 2011
Backyard Farmers is a company based on empowering individuals to grow their own food by supplying them with soup to nuts backyard food production "systems" and years of know-how. The company founders possess backgrounds in horticultural and entrepreneurship, and have combined this with a passion for self-sustaining agriculture.
The company is the first to offer a comprehensive selection of do-it-yourself supplies and installations of Backyard Food Gardens in the greater Philadelphia and New Jersey regions.
Co-Founder John Genovese states, "Vegetable and fruit gardening have been around since the dawn of civilization... we have not re-invented the act of gardening - rather, we have invented a new delivery system for converting expanses of grass lawns into productive food growing spaces."
A Backyard Farmers' food garden consists of raised bed vegetable gardens equipped with drip irrigation, custom soil blend, seeds and seedlings, a handmade movable chicken coop, fruit trees, berry bushes and everything in between including rain water harvesting and indoor/outdoor composting systems.
At the heart of the Backyard Farmers' offering is their unique topsoil/compost blend complete with a perfectly balanced organic soil amendment fertilizer that will create the optimum environment for vigorous growth, maximum production, incredible taste, and natural disease/pest resistance.
"The average person has never had this type of comprehensive service available to them before... When people see and understand just how easy it is to grow and maintain their own organic food with our signature systems, they will be wondering why they hadn't done this sooner," says John.
President Al Benner had this to say about the start-up operation: "I have been growing my own food off an on most of my life. It started when I was twelve years old, when my friend and I had a roadside vegetable stand, progressed to backyard gardens, and now to a full fledged 54 acre farm in upstate, PA. The food is of course amazing, but what thrills me most is how our twin five year old boys have responded to the backyard farming experience - the first egg they collected and that initial potato dig are memories that will stay with me (and them) for a lifetime"
Backyard Farmers unique service allows clients and customers to not only grow chemical free, nutrient-dense food that is fresher and better tasting, but the company claims the systems also pay for themselves within the first 18 - 24 months following installation.
Backyard Farmers believes nutritious, organic food is a basic human right and will be donating 15% of company profits towards establishing self-directed community food gardens on vacant inner city lots.
"I believe people are craving to re-connect to the land and their food," says Al. "I think the time is right for a service that can provide everything they need and the know-how to make backyard "mini-farming" a success. It seems like almost everyone I talk to lately is interested in this type of experience. Somewhere along the line we were brainwashed into thinking that growing food was for someone else to do. At the time of the signing of the Declaration of Independence, more than 90% of Americans were farmers. Our ancestor, Ludwig Benner sailed into Philadelphia from Germany in 1749 at 20 years of age on a ship called Fame. He set up a farm in Upper Bucks County. We recently took our boys to visit his grave... it was very powerful."
About Backyard Farmers, LLC
Founded in 2010 by Al Benner and John Genovese, Backyard Farmers, LLC is poised to quickly become a rising star among enthusiasts of healthy eating and self-sufficiency. The company has been recognized and mentored by organic vegetable gardening and season extension guru, Eliot Coleman, and has plans to install and supply over 500 Family Food Gardens this year.
To learn more about Backyard Farmers and their unique offerings, visit: http://www.BackyardFarmers.com
Contact Info:
John Genovese
Vice President
Backyard Farmers, LLC
Cell: (908)-601-6732 Toll Free: 800.544.GROW
Email: john(at)backyardfarmers(dot)com
http://www.BackyardFarmers.com
# # #