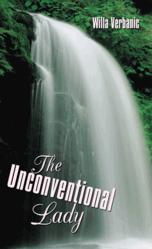 The Unconventional Lady is a story of strength and determination that will inspire all who read it.
Murrieta, CA (Vocus/PRWEB) April 05, 2011
While it may be the 21st Century, there are still professions that are unquestionably male oriented; none more so than the field of architecture. The new novel The Unconventional Lady (published by iUniverse) by Willa Verbanic follows one young woman's heroic struggle to succeed in this male-centric world.
Judy has achieved great things, there can be no doubt. Not even thirty years old, she has become a well-known member in the "old boys club" that is the world of architecture. She has been at the same firm for several years and has risen to a position of prominence there. But Judy wants more. Driven to break out on the international stage, she begins to lay the groundwork to achieve something very few women have.
Judy had always dreamed of working in another country and decided to do it while she was still young. When she told her old boss what she planned he let her go with his blessings but assured her she always had a position in his firm if thing didn't work out. Thus the adventure of The Unconventional Lady begins.
After a long and fruitless search, Judy began to think that her dream was nothing more than a foolish fantasy. That is, until she is called to interview for a position in Brazil. She is elated to be considered for the position. She is informed that the term of the engagement would be approximately one year, that it would be in the rainforest and it would be very dangerous. There was one more fly in the ointment; the two men running the project had been working together for several years and one of them was adamantly opposed to having a woman in the field.
When Judy arrives in the Brazilian jungle, the challenges that await her are epic. Ravenous predators, torrential rains and a seemingly insurmountable terrain all try to break the young woman. However, in the face of all of these challenges, she remains dauntless. Not even Judy's feckless and sexist boss can deter her from completing the duration of her contract.
The Unconventional Lady is a story of strength and determination that will inspire all who read it.
About the Author
Willa Verbanic has lived in California for most of her life, but has traveled extensively. She has used her travel experience as well as personal observation as a basis for the characters and settings in the book. Verbanic has two children, and still resides in California.
iUniverse, an Author Solutions, Inc. self-publishing provider, is the leading book marketing, editorial services, and supported self-publishing company. For more information, visit http://www.iuniverse.com.
EDITORS: For review copies or interview requests, contact:
Marketing Services
Tel: 800-288-4677
Fax: 812-961-3133
Email: promotions(at)iuniverse(dot)com
(When requesting a review copy, please provide a street address.)
# # #