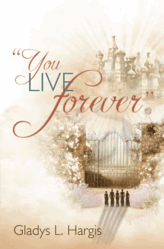 "My lung doctor did not want to leave my side because he knew that I was seeing something exciting," said Hargis. "I awoke singing 'Bringing in the Sheaves', all the verses, and yet I was in a coma, and did not know it."
Topeka, KS (Vocus/PRWEB) April 05, 2011
Not only does author Gladys L. Hargis believe in angels, she has seen and experienced their majesty in what could be considered her darkest hour. As she lay on the verge of death, Hargis was comforted by angels who would take her on a life-altering journey she would never forget.
In her new book, You Live Forever (published by WestBow Press), Hargis details her own death and resurrection as she journeyed to the Gates of Heaven with a group of angels.
"My lung doctor did not want to leave my side because he knew that I was seeing something exciting," said Hargis. "I awoke singing 'Bringing in the Sheaves', all the verses, and yet I was in a coma, and did not know it."
You Live Forever takes readers on Hargis's journey as angels appear and lead her down a dark hallway to a path. Hargis retells her amazing journey as she is guided by angels to the gates of heaven, sees people she once knew and talks to them through a veil curtain. Speaking with friends and relatives of the past, Hargis wants so badly to pass through the curtain, but knows that if she does she will never be able to come back. An excerpt from the book:
"It is a true story. Even I cannot believe it happened to me. But what I saw was real. I came to the hospital dead, was revived, died again, and while I was dead my soul left my body. I was watching the doctors trying to save my life, but they could not find out what was wrong with me."
You Live Forever was written to bring peace and hope to those in need. Hargis hopes that her story will be heard by those who have lost loved ones or are themselves facing the clutches of death. A true story, Hargis encourages readers to take her account to heart and rest assured that there are angels among us.
About the Author:
Gladys L. Hargis graduated in the small town of Hoyt, Kan. She and her husband were married in Holton, Kansas. Hargis attended business college, and started working for the Santa Fe Railroad, quitting when her son was 5 months old. A few years later, Hargis felt the need to take in foster children who needed a steady home life. After the children were grown, she drove for patients at mental hospitals. When her husband retired from the Topeka Fire Department, they both worked for Topeka State and Kansas Neurological Institute, she as a driver, and he as a Fire and Safety Officer.
WestBow Press is a strategic self-publishing alliance of Thomas Nelson, the world's premier Christian publisher, and Author Solutions, Inc. (ASI)—the world leader in the fastest-growing segment of publishing. For more information, visit http://www.westbowpress.com.
EDITORS: For review copies or interview requests, contact:
Marketing Services
Tel: 866-928-1240
Fax: 812-961-3133
Email: pressreleases(at)westbowpress(dot)com
(When requesting a review copy, please provide a street address.)
###