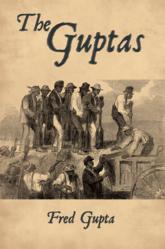 "I want people to know that success can come even amidst difficulties," says Gupta. "It was important for me to capture not only my family history but a story that truly showcases the struggles faced through migration across multiple generations."
Fort Lauderdale, FL (Vocus/PRWEB) April 05, 2011
How often do we lack a sense of belonging?
In his new book, The Guptas, accountant and South African native, Fred Gupta's story highlights his unique family history of migration and poverty; he creatively expands it into a story about conflicts from India, to South Africa to the United States.
"I want people to know that success can come even amidst difficulties," says Gupta. "It was important for me to capture not only my family history but a story that truly showcases the struggles faced through migration across multiple generations."
Like many families from multiple backgrounds, Gupta understands how it feels to lack a sense of belonging especially with his grandfather being from India and his father from South Africa. As he transcended from living in a small rural town in South Africa, to being a successful accountant owning his own firm, he realized the importance of understanding the parallels of struggles faced by multiple generations.
"This is more than just a fictional adaption of my family history," Gupta says. "It is a dynamic and engaging story that I hope will capture a glimpse of issues faced across generations"
The Guptas
By Fred Gupta
Paperback retail price: $14.95
Available at http://www.amazon.com and http://www.barnesandnoble.com.
About the author
Fred Gupta was born in Johannesburg, South Africa and currently resides in Fort Lauderdale, Florida, with this wife. He spent a majority of life in Mafeking, South Africa, a small town near the border of Botswana. Gupta holds a degree from University of Durban – Westville and holds masters of accountancy from the University of South Africa. In addition to his education and professional work, he enjoys doing Elvis impersonations at karaoke evenings and watching the Miami Dolphins.
EDITORS: For review copies or interview requests, contact:
Jason Gloye
Phone: 317.602.7137
Email: jgloye(at)bohlsenpr(dot)com
(When requesting a review copy, please provide a street address.)
# # #