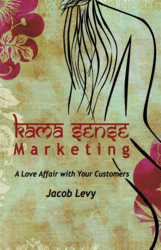 "The marketing community is obsessed with emotions," says Levy. "Kama Sutra provides a holistic analogy between the importance of integrating love into emotional and gender marketing."
TEL AVIV (Vocus/PRWEB) April 05, 2011
The marketing community has embraced the importance of emotion, but one expert says it's missing a key element: love.
A pioneer of marketing and market research, Jacob Levy intertwines the philosophies of Kama Sutra and with marketing strategy in his new book, Kama Sense Marketing. Based on the principle that organizations should "love" their customers, this book challenges marketers to embrace the ancient practices of Kama Sutra for business success.
"The marketing community is obsessed with emotions," says Levy. "Kama Sutra provides a holistic analogy between the importance of integrating love into emotional and gender marketing."
In an extremely competitive environment, marketing communications need to be creative and strategic. Kama Sutra, an ancient philosophy about the theory and practice of love, lays the groundwork for a relevant analogy about modern day marketing. By implementing what Levy calls "reciprocal love" into gender marketing strategy, organizations can boost their success.
"Romantic love exhibits relevancy to customer relationships," says Levy. "Kama Sense Marketing is based on the classic philosophies of love that Kama Sutra teaches for the importance of love in today's marketing. Organizations can have incredible success by loving their customers."
Innovative, creative and inspiring, Kama Sense Marketing serves as a guidebook for why marketers should embrace the importance of love within gender marketing for increased business success; by offering fountain for an endless creativity about how to woo, love and eventually " marry " the customer.
Kama Sense Marketing
Jacob Levy
ISBN 9781440195563
Paperback 5x8 Retail Price: $19.95
Available at http://www.amazon.com and http://www.barnesandnoble.com
About the author: Jacob Levy currently resides in Tel Aviv, Israel. He earned an MBA from UCLA in 1962 and established Gallup Israel, the first and largest research institute in Israel for the past 35 years. Levy is currently the co-founder of three additional start-ups in the area of mobile advertising and mobile research. He lives with his wife, Gita, and their six children.
EDITORS: For review copies or interview requests, contact:
Megan Giannini
Phone: 317-602-7137
E-Mail: mgiannini(at)bohlsenpr(dot)com
(When requesting a review copy, please provide a street address)
###