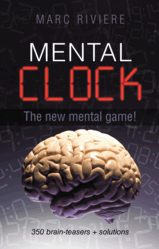 "When I was a child, I had insomnia. So, every night, I spent hours staring at my digital alarm clock watching minutes ticking by," says Rivière. "Then, I started playing with the figures and soon the goal was to find the maximum tens within each minute."
Paris, France (Vocus/PRWEB) April 05, 2011
Years ago, Marc Rivière couldn't sleep. Instead of seeing a doc, he looked at his clock – and that served as his inspiration for the latest in mental games.
In Mental Clock, Rivière reveals an alternative to popular brain games like crossword puzzles and Sudoku. The new puzzle game challenges readers to exercise their brains by using mental arithmetic without a calculator, centered around the figures on a digital clock. With varying levels of difficulty in more than 300 brain teasers, Mental Clock is created to entertain both young children and the most seasoned mathematicians.
"When I was a child, I had insomnia. So, every night, I spent hours staring at my digital alarm clock watching minutes ticking by," says Rivière. "Then, I started playing with the figures and soon the goal was to find the maximum tens within each minute."
Using the simple operations of addition, subtraction, multiplication or division, the player is challenged to use each figure in the hours and minutes, either separated or grouped. Easy to play, Mental Clock is a progressive game that allows players to see their evolution from the simple combinations to the more difficult.
"This is a game for everyone," says Rivière. "There is no need to be good at math. I still look forward to going to bed at night."
For more information, visit http://www.mentalclock.com/EN
About the author
Marc Rivière is currently working in the alternative energy field. He holds a master's degree in management, and currently resides in Paris, France. This is his first book.
EDITORS: For review copies or interview requests, contact:
Jessica Kiefer
Tel: 317.602.7137
Fax: 317.536.3775
Email: jkiefer(at)bohlsenpr(dot)com
(When requesting a review copy, please provide a street address.)
###