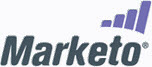 Marketo is at the forefront of this transformation, as businesses from every industry are turning to us to dramatically improve return on marketing spend, and to empower their sales teams to close more business at faster rates.
San Mateo, CA (Vocus/PRWEB) April 04, 2011
Marketo, the fastest growing provider of Revenue Performance Management solutions, today announced that the company has surpassed the 1000 customer mark. Marketo passed this milestone in less than three years, adding 146 customers in the first quarter of 2011. This explosive growth rate and fast revenue ramp further strengthens Marketo's position as the Revenue Performance Management market leader, and positions Marketo as one of the fastest-growing software-as-a-service (SaaS) vendors in history. Please visit http://www.marketo.com/1000-customers to watch a video of customers sharing how Marketo helps them accelerate revenue at their organizations.
"Marketo was founded on a simple yet powerful premise – to fundamentally transform how businesses generate revenue, faster and more effectively," said Phil Fernandez, president and CEO, Marketo. "In an age when the buyer is in control, with an infinite number of channels with which to engage and learn about a company, businesses must adapt how they market and sell their products and services. Marketo is at the forefront of this transformation, as businesses from every industry are turning to us to dramatically improve return on marketing spend, and to empower their sales teams to close more business at faster rates."
Fernandez continued, "The Marketo revenue revolution continues to gain momentum – as we pass the 1,000 customer mark, our business continues to accelerate. This is because we've held true to our core principles from the beginning – deliver a furious pace of innovation, provide thought leadership around the business impact of Revenue Performance Management, and maintain a passionate, laser-focus on making our customers wildly successful. This customer success is making Marketo a "must-have" in organizations of all sizes – customers who buy our software see real results in hours, not weeks or months."
Some of the companies that have selected Marketo to optimize their sales and marketing efforts to achieve explosive revenue growth include Bizo, Deloitte Recap LLC, D-Link, GannettLocal, PayPal, Kelly Services, Rackspace, Sourcefire, and Terracotta.
"We rely on Marketo to cultivate and nurture opportunities with both our business-to-business and business-to-consumer markets," said Martha Hess, Director of Marketing at D-Link. "Marketo's Revenue Performance Management software is a critical component of our go-to-market strategy, allowing us to quickly identify the hottest opportunities as they happen, and close business faster and more effectively."
"As the global leader in hosting and cloud computing, with over 130,000 customers, we must continue to create engaging relationships with our global audience of prospects and customers" said Jason Jue, Vice President of Marketing at Rackspace. "Marketo's Revenue Performance Management software helps us achieve a more intimate experience by identifying when we should interact with customers and what we should say. As a result, our customers are happier, our sales team is more productive, and the marketing team can extend fanatical support into the customers' purchase process."
"Terracotta is in hyper-growth mode, with more than 500,000 deployments and counting," said Amit Pandey, CEO of Terracotta, the company behind the some of the most widely used software for improving application scale and performance. "Marketo can keep pace with—and help drive—our aggressive goals for revenue growth and customer acquisition."
To learn more about Revenue Performance Management, please visit Phil Fernandez's blog on Revenue Performance.
About Marketo
Marketo is the global leader in Revenue Performance Management. Marketo's powerful yet easy-to-use marketing automation and sales effectiveness solutions transform how marketing and sales teams of all sizes work — and work together — to drive dramatically increased revenue performance and fuel business growth. The company's proven technology, comprehensive services, and expert guidance are helping corporations around the world to turn marketing from a cost center to a business-building revenue driver.
Marketo has been recognized with the 2010 CODiE award for "Best Marketing Solution," the "Best Sales and Marketing 2.0 Solution" from SellingPower, and the "Best Marketing Automation Application" by Salesforce customers on the Force.com AppExchange. As of March 2011, more than 1000 enterprise and mid-market clients globally have adopted Marketo solutions. For more information, visit http://www.Marketo.com, or subscribe to Marketo's award-winning blogs at http://blog.marketo.com/.
# # #