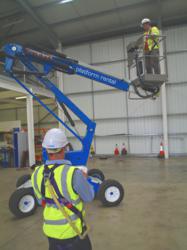 'We've had some great feedback from people attending our courses and with the offer we hope that we'll get a lot more people working at height to a higher standard'
Hemel Hempstead, Hertfordshire (PRWEB UK) 6 April 2011
The start of the financial New Year is an ideal time for companies to review their workforce's work at height training requirements, particularly in respect to their powered access usage. There's a few key questions worthwhile asking if this hasn't been reviewed recently;
With the Work at Height regs 2005, is the workforce competent to work at height? Note that competence means experience and proof of training.
Do any new starters not yet trained and certified?
Do any staff need to renew their existing IPAF card?
Does the staff's training certification reflect the company's current powered access usage? (eg we now use truck mounts more than scissor lifts so do we have the right training certification to use this type of powered access? '
To help promote companies undertake this review Smart Platform Rental Ltd, the UK's largest provider of light truck mount self drive rental platforms, has recently announced a new initiative. This month sees the company offer 4 people IPAF trained for the price of 3 on either one or two category courses. 'Since becoming a fully accredited IPAF training centre last year we've seen many of our clients already take advantage of our new training facility and we think this offer will assist many more customers get high volumes of their staff trained at a very competitive rate.' stated Guy Willett, Smart's Commercial Director. 'In addition, since taking on two full time IPAF trainers we can now offer courses at either our Hemel Hempstead or Birmingham sites on the same day; or for that matter on two different customer sites if that is what the customer specifies.'
'Some of our clients had previously got other training qualifications but there are a lot of advantages in having IPAF (International Powered Access Federation) training' states Lee Williams, Smart's Regional Training Manager. 'First it is the internationally recognised body for training provision for powered access and when you attend a course you're issued an IPAF card which gives you 5 years certified usage in the cherry picker categories you've been trained on.'
The offer covers both people new to powered access or those people looking to either renew or add extra categories to their IPAF cards. Clients can either get their delegates all trained on the one same category or you can opt to get them all trained on 2 of the following three IPAF categories:
Vehicle mounts (IPAF category 1b formerly VMP26) and push around/trailer mounts (IPAF category 1b formerly TP)
Scissor lifts and vertical personnel lifts (IPAF category 3a, formerly SL)
Self propelled booms (IPAF category 3b, formerly SPB).
'With either option the clients can get all these people trained in just the one day, so minimising disruption to their business' adds Williams, 'and the option to get trained either at our training centres or if you have your own powered access on your own location or the site where you're working we think will appeal to a lot of customers.'
'We've had some great feedback from people attending our courses and with the offer we hope that we'll get a lot more people working at height to a higher standard' said Willett. 'In fact many clients who've used us have come back to attend other training courses we offer including IPAF's safety harness courses and training on mobile towers certified by PASMA (Prefabricated Access Suppliers & Manufacturers Association).'
For more information on the training offer and on Smart please click HERE.
###