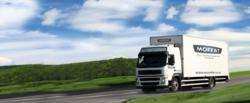 (Vocus/PRWEB) 5 April 2011
British manufacturer E&R Moffat has called on the catering equipment industry to sort out the issue of delivery charges. "Pricing needs to be transparent, especially in the current economic climate," says Moffat sales director Gary Allen. "Catering equipment buyers need to be told from the outset whether they will be charged for delivery, and what those charges are. Otherwise how can they compare the true cost of a purchase?"
Allen likens the issue to low-cost airlines adding extra charges to the price of a seat. "It's infuriating for buyers to find out at the end of a lengthy purchasing decision that they are going to have to pay extra for delivery," he says.
Moffat is one of the companies that offers free delivery on all products supplied to the UK mainland. "The trouble is, buyers who get caught out by delivery charges understandably become cynical about the whole foodservice equipment industry. So even companies like us that don't charge are affected.
"In a tough economic climate, just a few tens of pounds may swing a purchase one way or another. That's why delivery charges are so important right now."
Delivery charges vary from company to company. Some, like Moffat, are free. Others may charge from around £20 to £100 or more.
"We want all equipment suppliers to include delivery charges up front, so caterers and buyers know exactly what the total cost of their equipment purchase is going to be," says Gary Allen.
"But for the time being, the message to catering equipment buyers is: check for delivery charges."
E & R Moffat is one of the UK's leading manufacturers of quality foodservice equipment, designing and manufacturing in-house. Based in Bonnybridge, Scotland, the company manufactures standard and bespoke servery, regeneration and storage equipment and runs a full nationwide after-sales engineering team. E & R Moffat is accredited to ISO 9001:2008 and many of the products have gas approvals and are EMC tested. For more information on E & R Moffat visit the website on http://www.ermoffat.co.uk
For more news about E&R Moffat visit the press office at http://www.publicityworks.biz
# # #