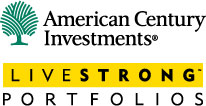 The allocation mix for the portfolios can invest in up to 14 different funds and provides exposure to specialty strategies such as real estate, emerging markets, international bonds and inflation-indexed bonds.
Kansas City, MO (Vocus/PRWEB) April 04, 2011
Effective March 31, 2011, American Century Investments added a new fund – LIVESTRONG® 2055* – to its popular target-date LIVESTRONG Portfolio series. Managed as fund-of-funds, LIVESTRONG Portfolios automatically reallocate from a capital appreciation focus to a more conservative approach as the designated target date approaches.
The new fund joins a lineup that includes LIVESTRONG 2015, 2020, 2025, 2030, 2035, 2040, 2045 and 2050 Portfolios and LIVESTRONG Income for investors at or near retirement. The move expands investment options for individual investors and sponsors of defined contribution retirement plans.
The underlying American Century funds used in LIVESTRONG Portfolios represent various asset classes, styles and capitalization ranges. The allocation mix for the portfolios can invest in up to 14 different funds and provides exposure to specialty strategies such as real estate, emerging markets, international bonds and inflation-indexed bonds.
At the time of LIVESTRONG 2055's inception date, the fund's target asset mix was 85 percent stock funds and 15 percent bond funds. The portfolio seeks the highest total return consistent with its asset mix. Each year, the asset mix and weightings are adjusted to be more conservative. In general, as the target year approaches, the portfolio's allocation becomes more conservative by decreasing the allocation to stocks and increasing the allocation to bonds and money market instruments. LIVESTRONG 2055's target date is the approximate year when investors may plan to start withdrawing their money. The principal value of the investment is not guaranteed at any time, including at the target date.
LIVESTRONG Portfolios management team consists of American Century Investments Chief Investment Officer Enrique Chang, Chief Investment Officer for Quantitative Equity and Asset Allocation Scott Wittman, Senior Vice President and Senior Portfolio Manager Richard Weiss, Vice President and Portfolio Manager Irina Torelli and Portfolio Manager Scott Wilson.
LIVESTRONG 2055 has a multiple share class structure including Investor, Institutional, A, C and R shares. The standard minimum for the retail Investor class is $2,500, although American Century will waive the fund minimum for an initial investment of at least $500 and subsequent enlistment in automatic monthly investments of at least $100 until reaching the fund minimum.
LIVESTRONG Portfolios provide investors with a convenient way to invest for retirement or any long-term goal, while supporting the fight against cancer through LIVESTRONG. LIVESTRONG is the brand of the Lance Armstrong Foundation, created in 1997 by the cancer survivor and champion cyclist to serve people living with cancer and empower communities to take action. The portfolios do not invest in tobacco companies or charge investors an incremental fee to support LIVESTRONG. Rather, the management company of American Century Investments has made a multi-year, multi-million dollar commitment to the foundation.
About American Century Investments
American Century Investments is a leading privately-held investment management firm, committed to delivering superior investment performance and building long-term client relationships since 1958. Serving investment professionals, institutions, corporations and individual investors, American Century Investments offers a variety of actively managed investment disciplines through an array of products including mutual funds, institutional separate accounts, commingled trusts and sub-advisory accounts. The company's 1,300 employees serve clients from offices in New York; London; Hong Kong; Mountain View, Calif. and Kansas City, Mo. James E. Stowers Jr. is founder of the company. Jonathan S. Thomas is president and chief executive officer and Enrique Chang is chief investment officer. Through its ownership structure, more than 40 percent of American Century Investments' profits support research to help find cures for genetically-based diseases including cancer, diabetes and dementia.
About LIVESTRONG/Lance Armstrong Foundation
LIVESTRONG serves people affected by cancer and empowers them to take action against the world's leading cause of death. Created as the Lance Armstrong Foundation in 1997 by cancer survivor and champion cyclist Lance Armstrong, the organization is now known publicly by its powerful brand – LIVESTRONG – and is a leader in the global movement on behalf of 28 million people around the world living with cancer today. Known for its iconic yellow wristband, LIVESTRONG has become a symbol of hope and inspiration to people affected by cancer around the world. Since its inception, the organization has raised more than $400 million for the fight against cancer. For more information, visit LIVESTRONG.org.
*American Century Investment Services, Inc., has entered into an agreement with the Lance Armstrong Foundation for rights to use the LIVESTRONG name. Under this agreement, every dollar invested in the LIVESTRONG Portfolios through 2016 will help determine the amount the management company of American Century Investments will pay the Lance Armstrong Foundation above a guaranteed amount. Under limited circumstances, the agreement can be terminated by either party, and there will be no future payments. For more information about the foundation, visit http://www.LIVESTRONG.org.
Before investing, carefully consider a fund's investment objectives, risks, charges and expenses. Go to americancentury.com for a prospectus or summary prospectus containing this and other information. Read it carefully.
American Century Investment Services, Inc., Distributor
©2011 American Century Proprietary Holdings, Inc.
# # #