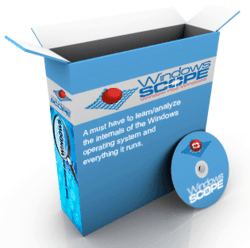 Amherst, MA (Vocus/PRWEB) April 04, 2011
BlueRISC Inc (http://www.bluerisc.com), a leader in hardware-assisted security that has built on its game-changing security processor TrustGUARD™ and software technologies to provide endpoint and embedded systems security for defense companies, today announced the availability of the Phantom Probe Agent, an add-on technology to the WindowsSCOPE (http://www.windowsscope.com) tool suite for reverse-engineering, cyber analysis and defense, and memory forensics on Windows based computers.
The complementary Phantom Probe Agent enables analyzing and investigating multiple systems transparently on a network or in the Cloud. Government and corporate organizations will benefit from the ability to monitor threats in remote systems on a network. WindowsSCOPE users are now able to analyze any computer on their domain from a central console.
With the Phantom Probe Agent, retroactive tracking of advanced cyber-threats across all computers in a network over time becomes possible. This birds-eye view of a network's threats at each individual node enables determining what critical infrastructure, data, and intellectual property has been at risk or been compromised, and at what time. Damage from advanced persistent threats can be mitigated. Integration with McAfee® ePolicy Orchestrator (ePO) can be provided for integrated risk and compliance management.
The WindowsSCOPE tool suite combined with the Phantom Probe Agent provides an organization's IT and security professionals, system admin, cyber-threat analysts, and computer system researchers with a powerful tool for in-depth analysis and defense of networks with computers running Microsoft Windows. USB 3.0 device based versions are available for incidence responders.
More information, as well as, a free trial download of WindowsSCOPE can be accessed from the WindowsSCOPE website (http://www.windowsscope.com). Full versions can be purchased from the WindowsSCOPE e-store. For becoming a reseller and for pricing information regarding the Phantom Probe Agent and larger deployments, please contact sales(at)windowsscope(dot)com.
###