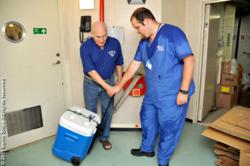 As a volunteer, I'm here to do whatever I can to further the mission of Mercy Ships
Garden Valley, TX (Vocus/PRWEB) April 05, 2011
Mercy Ships is dedicated to improving World Health in some of the most poverty-stricken nations on earth. The focus of 2011 World Health Day, celebrated on April 7, is the importance of antimicrobial agents — antibiotics, antivirals and chemotherapeutic agents, among others. Getting vital medications to the developing world in a timely manner is a challenging task. No one goes to greater lengths to ensure their patients are provided with these life-saving medications than the international charity, Mercy Ships.
The procurement department at the Mercy Ships International Operations Center in Garden Valley, Texas, is charged with the daunting task of shipping medications, lab supplies, hospital equipment, and medical supplies (among other things) to their hospital ship in West Africa. These items are either donated by generous providers or purchased.
"We send one 25,000-pound shipping container every month to the Africa Mercy, packed with medical, food, and technical supplies needed to keep our ship and its programs operational," says Russ Holmes, Director of International Procurement at Mercy Ships. "About half of the container is solely medical supplies."
Transporting the container can take up to eight weeks. Once the container is cleared through customs in the host country, the medical supplies are unloaded and available for surgeons and nurses to use to treat patients.
A few key pharmaceuticals, however, require a climate-controlled environment and a first-class method of shipping. Normal shipping procedures do not offer a temperature-sensitive option and are not cost-effective for items like tetanus vaccines, TB vaccines and media plates for the onboard laboratory.
Mercy Ships has found a creative, dependable, and practical way to overcome this obstacle. -- putting these items in the compassionate hands of their volunteers.
For instance, last month Dr. James McDaniel, an orthopedic surgeon traveling to serve on the Africa Mercy, checked an extra piece of luggage at the ticket counter. One rolling suitcase carried clothes and necessities. The other — a rolling cooler — contained vaccines and hospital lab supplies.
"As a volunteer, I'm here to do whatever I can to further the mission of Mercy Ships," explained Dr. McDaniel. This form of delivery takes 36-40 hours and is the most efficient way of getting climate-controlled supplies to the ship in a timely and effective manner.
Approximately 38 hours later, Dr. McDaniel delivered the cooler to the hospital supply coordinator on the ship. The important medicine was then available for immediate use.
Life-changing surgeries are only successful when the appropriate pharmaceuticals are available to treat patients. The two key teams at Mercy Ships that make this happen are the Advance team and the International Procurement Department. Advance secures the proper authorization to import pharmaceuticals into West African countries, and the procurement team acquires the items and works out the logistics that make the delivery of the drugs a safe and efficient process.
Thanks to these groups, as well as loyal volunteers who are willing to serve as couriers, the forgotten poor of West Africa have access to vital medications that have the potential to save hundreds — even thousands — of lives.
ABOUT WORLD HEALTH DAY: World Health Day is celebrated on April 7, 2011 to mark the founding of World Health Organization (WHO). Each year, the Organization selects a key health issue, and encourages people from all ages and all backgrounds to hold events that highlight the significance of this issue for good health and well-being. World Health Day provides a unique opportunity for communities from across the world to come together for one day to promote actions that can improve our health.
ABOUT MERCY SHIPS: Mercy Ships uses hospital ships to deliver free, world-class health care services, capacity building and sustainable development to those without access in the developing world. Founded in 1978 by Don and Deyon Stephens, Mercy Ships has worked in more than 70 countries providing services valued at more than $834 million, impacting more than 2.9 million direct beneficiaries. Each year Mercy Ships has more than 1,200 volunteers from over 40 nations. Professionals including surgeons, dentists, nurses, health care trainers, teachers, cooks, seamen, engineers, and agriculturalists donate their time and skills to the effort. Mercy Ships seeks to become the face of love in action, bringing hope and healing to the poor. For more information click on http://www.mercyships.org
Contact Information
US Public Relations
us(dot)media(at)mercyships(dot)org
903.939.7017
If you are interested in donating pharmaceuticals to Mercy Ships, please email giftinkind(at)mercyships(dot)org
903.939.7000
Hi-res photos and general Mercy Ships video footage are available upon request.
###