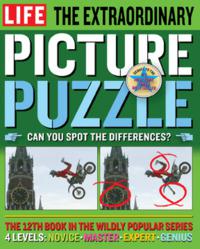 From the editors of LIFE, who first brought you the Picture Puzzle craze, comes the twelfth book in the best-selling series of photo puzzles for all ages
(PRWEB) April 05, 2011
From the editors of LIFE, the magazine which introduced the American public to countless iconic photographs, comes The Extraordinary Picture Puzzle (April 5, 2011, Time Home Entertainment, paperback, $11.99), the twelfth book in their best-selling puzzle book series. The Extraordinary Picture Puzzle builds on the proven formula of presenting captivating, colorful photos which have been subtly, but expertly altered compiled into a book of visual puzzles for experts and novices alike.
LIFE's picture puzzle books have been consistently and enormously successful since their debut in 2006, requiring fifteen printings of the first four books to satisfy consumer demand. Despite the influx of imitators which inevitably follow such megahits, hobbyists still wait for and seek out LIFE's picture puzzle releases. Previous books in the LIFE series have enchanted fans with themes ranging from exotic animals to jubilant holiday celebrations. This newest edition includes 128 pages filled with photos of spectacularly rare moments which are best described simply as "extraordinary." Split into four sections based on difficulty – novice, master, expert and genius – The Extraordinary Picture Puzzle will be a challenge for both first-time puzzle solvers and collectors of the entire picture puzzle series.
Puzzle novices will attempt to spot the differences in breathtaking photos of gravity-defying skydivers clinging to a plane and enormous robots as large as buildings. Those bold enough to try their hand at the genius section will encounter everything from dinosaurs and elephants roaming down crowded city streets to dinner-guests suspended in mid-air. In between are inverted houses, human canons, and men plummeting from a custom built flying pig vehicle. In addition, a final section showcases classic LIFE photos in puzzle form, featuring the excellence in journalism and storytelling the brand is so well known for.
From the most trusted name in the picture puzzle world, LIFE's The Extraordinary Picture Puzzle is the perfect introduction to visual tests of skill, or an eagerly anticipated challenge for puzzle pros. The Editors of LIFE have done it again with a collection of puzzles that truly earns the title "Extraordinary".
About LIFE
The editors at LIFE vigorously carry on the traditions of excellence in photography, in journalism, and in telling the story of our country and our world which began with LIFE magazine in 1936 by founding editor and publisher, Henry R. Luce. They have published books on a broad range of subjects, including New York Times bestsellers One Nation, LIFE Picture Puzzle and The American Journey of Barack Obama.
LIFE: THE EXTRAORDINARY PICTURE PUZZLE
By the Editors of LIFE
Time Home Entertainment, Inc.
Publication date: April 5, 2011
$11.99 paperback; ISBN 10: 1-60320-876-3
###