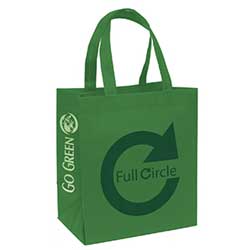 "We have dramatically increased the number of styles and sizes of earth friendly bags in 2011 because this positive trend is certainly on this rise."
(Vocus/PRWEB) April 08, 2011
Are plastic shopping bags really becoming illegal? Well, not yet, but recently the plastic bag battle has been heating up in many towns and cities across the nation. Environmental advocates and legislative leaders are urging the government to impose a tax of as much as 20 cents per plastic bag to try and deter shoppers from using them. As the environment moves into the forefront of political platforms many municipalities and organizations are taking notice by promoting more eco-friendly or green products and services. As a result of the plastic bag backlash, the reusable tote bag business has taken off. Many businesses are offering incentives to shoppers who choose to be more earth-friendly by using reusable bags.
According to the Environmental Protection Agency, close to 380 billion plastic bags are used in the United States each year. Plastic shopping bags cost retailers around $4 billion annually. Also, hundreds of marine animals including dolphins, whales and sea turtles die every year after eating discarded plastic bags that they mistake for food. Plastic bags are not only harmful but they can take up to 1,000 years to degrade thus filling up our nation's landfills.
Promotional products supplier 4AllPromos has certainly taken notice of the switch from plastic bags to reusable ones. Tote bags are the most popular custom imprinted item they sell. They are inexpensive and useful items to offer customers. According to Treehugger.com plastic bag use in Washington, DC dropped from 22 million to 3 million a month in 2010. It's clear customers see the sense in using reusable bags over plastic bags.
"We have seen enormous uptick in the demand for earth friendly promotional products, especially for our recycled and reusable grocery bags. These bags are less expensive than other non earth friendly and they can be used over and over again. We have dramatically increased the number of styles and sizes of earth friendly bags in 2011 because this positive trend is certainly on this rise," said Cosmo Corigliano, President of 4AllPromos.
4AllPromos, a supplier of custom imprinted products, offers a wide variety of earth friendly items to their customers other than tote bags including BPA-free sports bottles and drinkware, sticky notes made from recycled paper, recycled cotton apparel and many other fun and earth friendly giveaways. Earth friendly promotional products are a great option for many small businesses. They are affordable and sensible items that show your customers you care about them and our planet.
So, no matter how you look at it, reusable bags make a lot of sense. Typically these kinds of bags hold more groceries or merchandise than your standard plastic shopping bag. Reusable bags are more durable and long lasting. Their sturdy bottoms and reinforced straps make them easy to transport. They are also convenient to store away and safe for children and pets.
Perhaps the biggest incentive to reusable bags is the discount retailers give to their customers when they use them. In a struggling economy every penny saved is important.
Plastic bag legislation has been passed in South Africa, Hong Kong and Taiwan. Stateside a ban on plastic bags has set a precedent in Santa Monica, CA, impacting supermarkets, convenience and liquor stores and pharmacies. The law took effect in early 2011 but officials claim they won't truly enforce the strict monetary penalties until early fall. Those in violation of the plastic bag ban could be fined a whopping $75. Overall, 19 plastic bag bans have been enacted throughout the U.S.
Get prepared and purchase reusable bags today before your city or town outlaws them. These bags come in all kinds of shapes, color and with various features that compliment your shopping needs. The tote bags are made from a variety of eco friendly materials including canvas, synthetic fibers or recycled plastic material is growing rapidly in the United States and abroad.
How many plastic bags have you gone through this year? If the answer is more than zero it's time to consider reusable shopping bags. Visit 4AllPromos.com to check out a large selection of reusable shopping tote bags.
# # #