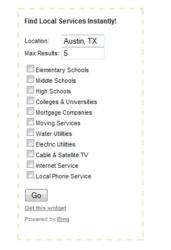 This is a "must have" free widget for real estate professionals and local portal sites online.
Belton, TX (PRWEB) April 07, 2011
RealEstateLicense.org has just released a new, extremely powerful web widget for real estate sites, local vertical portals, news sites, city government sites, and real estate investor sites, etc. The "Find Local Businesses & Services Widget" is free, and allows site visitors to easily search for local schools, businesses, government services, utilities and other resources, all within one simple to use screen, to help them in the process of relocating.
The distinct advantage that this new widget delivers is that it allows the user to get all of this information at once, with just a few clicks of the mouse, without having to run multiple searches in the yellow pages, white pages or on the search engines. All of these services are just a few clicks away, and are tailored to the user's location, ensuring that all of the information returned is highly relevant to the user's relocation plans.
"All of the feedback we have received so far on this widget is positive. People are saying they love it." says Jeffry Evans, founder and operator of RealEstateLicense.org. "This technology is the missing link for real estate and classified sites everywhere."
RealEstateLicense.org provides real estate agents and up-and-comers with top notch information, tips, tools, resources and software for helping them get their real estate license, achieve success in their real estate internet marketing, and other areas of their business and life.
And with the down turn in the real estate market, many real estate professionals are feeling the effects. They need a way to gain the advantage over their competitors.
Jeffry added "With the housing market bubble bursting, agents and brokers everywhere are feeling the squeeze, and any competitive advantage they can get is worth it to them, and this widget certainly provides that advantage."
This widget is comprised of simple html copy and paste code that anyone, even those that are not technically savvy, can customize and install on their site. There are 11 available businesses and services to search for, and the widget will return up to 10 results per service requested, for a maximum of 110 results for any one query.
This widget is available now, click here to customize and download it for free.
###