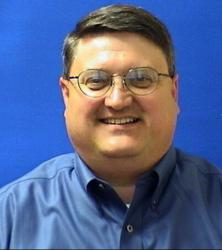 The innovation we bring is our deep heritage of moving learning forward. Our products will operate on current and evolving platforms, because at the end of the day it's about empowering students to learn in the space of their choice
Cincinnati, OH (Vocus/PRWEB) April 04, 2011
Veteran technology executive James L. "Jim" Scott has been named chief information officer of KnowledgeWorks, a Cincinnati-based foundation and emerging social enterprise that incubates and develops innovative high school models throughout the United States.
Scott joins KnowledgeWorks as plans call for the organization to grow the number of sites of its New Tech Network and EdWorks high school models by 50 percent to more than 100 high schools by this fall. Plans also call for continued expansion over the next few years.
Chad Wick, Knowledge Works CEO, said Scott can help KnowledgeWorks identify scalable, innovative and flexible ways to incorporate technology in the classroom. Most recently, Scott was vice president and chief technology officer for the Kroger Company.
"Jim brings nearly three decades of experience in software development and data management from the business arena," Wick said. "He is a leader who will help KnowledgeWorks continue to be nimble and grow our technology capabilities as we expand our innovative high school models."
KnowledgeWorks president, Brian Ross, is enthusiastic about Scott's role and said he joins the organization at an important time.
"We see a future where schools are increasingly turning to technology as the pedagogical tool of choice for student learning, where school is never really out, where learning is happening any time, at any place," Ross said. "Jim brings an impressive amount of business acumen to KnowledgeWorks and, as the former CTO of the nation's largest grocery store chain, he also knows a lot about systems and scalability. That's important to the long-term growth of KnowledgeWorks and its network high of schools."
Already, Echo, New Tech Network's cloud-based learning management system, enables efficient, "anytime learning," facilitates communication and collaboration, and improves teacher practice.
Scott believes Echo will extend beyond the New Tech Network to students in other schools, making project-based learning more readily accessible to thousands of students across the country.
"We don't have to reinvent the wheel; we just have to be able to take advantage of leading technologies that are available today – from tablets to smart phones -- and ride that wave by augmenting what's out there," Scott said. "The innovation we bring is our deep heritage of moving learning forward. Our products will operate on current and evolving platforms, because at the end of the day it's about empowering students to learn in the space of their choice."
A Cincinnati native, Scott holds a Bachelor of Science degree in electrical engineering technology from the University of Cincinnati, as well as a degree in applied science.
Scott has held a number of senior-level executive positions, including senior vice president and chief technology officer at Fifth Third Bank, and senior vice president at Fidelity Investments.
Scott is board chair of the INTERalliance of Greater Cincinnati. He also serves on other boards including the University of Cincinnati MIS Advisory Board. He is a frequent volunteer for many other events in Cincinnati and served six years on the board of the Epilepsy Foundation of Greater Cincinnati. He and his wife, Peggy, live in Batavia, Ohio.
KnowledgeWorks is bringing the future of learning to America's high schools and creating widespread, lasting change in the communities and states we serve. Our portfolio of high school approaches includes New Tech Network high schools, EdWorks high school redesign, Science, Technology, Engineering and Math (STEM) and Early College High Schools. KnowledgeWorks subsidiary Strive is a national initiative that works to build cradle to career civic infrastructure in communities to identify, sustain and scale what works for kids.
###