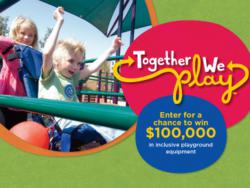 We are eager to help bring inclusive play to communities throughout the U.S. and Canada.
Delano, MN (Vocus/PRWEB) April 05, 2011
Landscape Structures Inc., the nation's leading designer and manufacturer of commercial play equipment, announced today that it has partnered with Shane's Inspiration, the only nonprofit organization specializing in the design and educational programming of inclusive playgrounds, to sponsor the Together We Play™ essay contest. A grand prize of $100,000 in playground equipment, along with $50,000 of project development, design and educational programming services will be awarded to a community in North America.
Five regional winners will also be selected, each of which will receive $10,000 in inclusive playground equipment from Landscape Structures along with inclusive playground design, project development and educational programming services valued at $50,000 from Shane's Inspiration. The contest is open to representatives of U.S. and Canadian government entities (excluding Quebec), including parks and recreation agencies, schools and qualified 501(c) (3) organizations.
Qualified contestants may enter the contest by completing an online entry form and submitting an original essay that describes how their communities would benefit from a Landscape Structures and Shane's Inspiration inclusive playground. The contest begins April 4, 2011, and closes Aug. 1, 2011. To find complete contest rules and an official entry form, visit playlsi.com/Together-We-Play.
"We have learned that the creation of a beautiful, inclusive playground often begins with the dreams and energy of just one person," says Tiffany Harris, cofounder and CEO of Shane's Inspiration. "So we are hopeful that this contest will be the spark that ignites those dreams. Inclusive playgrounds have the power to transform families and communities, and we invite anyone who has seen a need for inclusive play in their parks or schools to submit their contest entry."
According to Pat Faust, president of Landscape Structures, the contest is a celebration of the 10 years that Landscape Structures and Shane's Inspiration have worked together on inclusive playgrounds. "We dedicate this contest to the thousands of families, teachers, recreation professionals and therapists who share our belief that playgrounds should serve all children," says Faust. "For the past 10 years Landscape Structures and Shane's Inspiration have worked tirelessly to design and install playgrounds that achieve the highest levels of inclusive play, and to provide educational programming that promotes understanding of the unique abilities of each and every child. It has been an honor to partner with Shane's Inspiration on the creation of more than 30 spectacular playgrounds in the Western U.S., and we are now eager to help bring inclusive play to communities throughout the U.S. and Canada."
About Landscape Structures Inc.
Since 1971, Landscape Structures Inc. has been the leading commercial play equipment manufacturer in the world. Our employee-owned company is committed to making the world a better place with active children thriving in leading communities year after year, generation after generation. We encourage outdoor play that develops healthy kids and a sustainable world by creating innovative products that are environmentally responsible. Our mission from day one has been to enhance children's lives by fostering and creating inspiring play experiences while honoring the environment.
About Shane's Inspiration
Our Vision: Fostering a bias-free world for children with disabilities.
The mission of Shane's Inspiration is to create inclusive playgrounds and programs that unite children of all abilities.
Shane's Inspiration was cofounded in 1998 by Catherine Curry Williams and Scott Williams in memory of their son Shane Alexander. Shane's Inspiration has evolved into a widely recognized, international non-profit, creating Universally Accessible Playgrounds and programs that integrate children of all abilities socially, physically and emotionally, fostering acceptance, friendship and understanding. To date, they have created 36 playgrounds, three in conjunction with the 2010 Vancouver Winter Olympic - Paralympic Games, as well as the first accessible playground in the country of Mexico.
Shane's Inspiration's full spectrum service programs work in partnership with municipalities, community groups and families to ensure the successful fruition of universally accessible playground projects. They are the only nonprofit organization implementing full curriculum ability awareness educational programming that works in tandem with accessible playgrounds, creating a powerful global inclusionary awareness legacy which transforms the lives of thousands of children each year. Visit http://www.shanesinspiration.org.
###