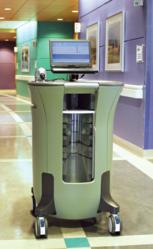 We're confident that nurses will find MedRover to be the innovative solution to medication administration they've been waiting for.
Denver, CO (Vocus/PRWEB) April 06, 2011
Swisslog, a leading provider of automated materials transport and medication management solutions for hospitals, today announced that its MedRover™ mobile dispensing cabinet will debut next week at the American Organization of Nursing Executives (AONE) Annual Meeting & Exhibition in San Diego.
A combination of a workstation-on-wheels and a medication dispensing cabinet, MedRover provides secure medication storage in a compact, easily maneuverable unit. MedRover significantly reduces medication administration errors by allowing nurses to bring the secure cabinet directly to their patients' bedside for verification and administration. This gives nurses more time with their patients, improving the patient care experience.
MedRover's flexible storage options and lightweight, ergonomic design make it an ideal solution for hospitals looking to reduce or augment existing stationary cabinets. MedRover holds patient-specific medications, floor stock and supplies.
"When determining where and when to debut MedRover, we considered several options," said Bob Waski, vice president of sales for Swisslog's Automated Drug Management Systems (ADMS) business unit. "AONE offers the ideal demographic and location. We're confident that nurses will find MedRover to be the innovative solution to medication administration they've been waiting for."
Swisslog is exhibiting MedRover at booth #1029 during the April 14 - 15 trade show at the San Diego Convention Center. Attendees who visit Swisslog's booth will have the opportunity to see demonstrations of MedRover while listening to a brief presentation.
Swisslog Healthcare Solutions is the leading supplier of logistics automation solutions for healthcare facilities. Swisslog has installed automated materials transport and medication management systems in more than 3,000 hospitals around the world, including more than 2,000 in North America. Swisslog offers total systems design, manufacturing, installation and customer support, providing a complete supply chain management approach to the logistics challenges of hospitals. The North American division of Swisslog Healthcare Solutions is based in Denver, CO.
About Swisslog
Swisslog is a global provider of integrated logistics solutions for warehouses, distribution centers and hospitals. Its comprehensive services portfolio ranges from building complex warehouses and distribution centers to implementing Swisslog's own software to intra-company logistics solutions for hospitals.
Swisslog's solutions optimize customers' production, logistics and distribution processes in order to increase flexibility, responsiveness and quality of service while minimizing logistics costs. With years of experience in the development and implementation of integrated logistics solutions, Swisslog provides the expertise that customers in more than 50 countries rely on.
Headquartered in Buchs/Aarau, Switzerland, Swisslog currently employs over 2,000 staff in about 20 countries worldwide. The group's parent company, Swisslog Holding AG, is listed on the SIX Swiss Exchange (security number: 1232462, Telekurs: SLOG, Reuters: SLOG.S). For more information, visit http://www.swisslog.com.
###