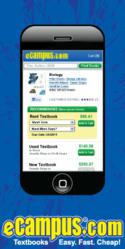 The decision to launch an optimized mobile website was largely driven by our focus on giving students the best possible experience when renting, buying, or selling their textbooks
Lexington, KY (Vocus/PRWEB) April 15, 2011
eCampus.com, a top online textbook retailer, unveiled a new, user-friendly mobile version of their successful online website today.
The new mobile platform focuses on customer experience and usability when purchasing, renting, or selling textbooks through eCampus.com. The release of the mobile site comes just in time for the company's textbook buyback season. Students flock to eCampus.com every semester to sell their used textbooks and receive cash or in-store credit for their buyback purchases. The launch of the new mobile site will assist with the massive influx of traffic and help mobile users get through the selling process more quickly and efficiently.
"The decision to launch an optimized mobile website was largely driven by our focus on giving students the best possible experience when renting, buying, or selling their textbooks," said Matt Montgomery, President and CEO of eCampus.com.
The mobile website, which is designed to simplify the buying and selling process, is compatible with most popular mobile phones, platforms and devices, including Android, Blackberry, iPhone, iPad and iPod Touch. According to Montgomery, the goal was to keep the user experience limited to sixty seconds or less to maximize conversion on all applicable devices.
"With the increase in mobile device usage, it made sense to streamline the process for our users electing to sell or shop for textbooks using their phones. Our commitment to our customers is to be the best source for a student's textbook needs. This means offering the most accessible, most secure, and most seamless process possible," Montgomery said.
By entering the title, author or ISBN of specific textbooks, students are able to instantly access price quotes on the new mobile version of the site, as well as purchase and rent them.
Customers who visit eCampus.com through mobile devices will be automatically redirected to the new user-friendly mobile version of the site, which can also be accessed by heading to m.eCampus.com on any internet browser.
"As college students continue to rely heavily on their mobile technology, eCampus.com will continue to make their textbook experience as easy and user-friendly as possible," Montgomery said, solidifying the fact that eCampus.com continues to implement new enhancements and technologies as they develop.
ABOUT eCAMPUS.COM
eCampus.com was established on July 2, 1999. Since then, eCampus.com has grown into a major online retailer providing cheap textbooks for college and high school textbooks. eCampus.com's mission is to provide the easiest, fastest, cheapest way for college and university students to buy textbooks, rent textbooks and sell textbooks. eCampus.com believes the Internet buying experience should be fun and shopping for textbooks should be as fast and convenient as possible. The company makes a personal commitment to every customer that eCampus.com will be the best source for everything they need.
# # #