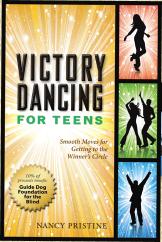 (Vocus/PRWEB) April 06, 2011
"ForeWord Reviews" is pleased to announce the 2010 Book of the Year Awards list of finalists. Representing more than 350 publishers, the finalists were selected from 1400 entries in 56 categories. These books are examples of independent publishing at its finest.
"Victory Dancing for Teens: Smooth Moves for Getting to the Winner's Circle" is a finalist for the 2010 Book of the Year Awards in the sports category.
Victory Dancing refers to the spontaneous "boogie" of celebration that is seen—and hopefully even experienced—in various aspects of life. Think of the athlete who scores the winning point in a major competition, the game show contestant who wins a grand prize, or the friend who aces a tough exam at school. When a person learns the Victory Dance technique and applies it to their life, they can overcome self-sabotage, think better on their feet, and function at their peak at home, at school, at work, and in life.
Learn more about Nancy and this exciting new book by going to NancyPristine.com. Nancy, also known as the happiness and well-being ambassador, is a radio talk show host and the author of "The Zen Game: How to Win at the Game of Life Without Selling Your Soul" and "The Victory Dance: Placing Yourself in the Winner's Circle in Sports and in Life" (for adults). See a quick video about her exciting new books, published by Arc Manor, by going to Amazon.com or NancyPristine.com.
The Book of the Year Awards program was established by "ForeWord Reviews" to help publishers shine an additional spotlight on their best titles and bring increased attention to librarians and booksellers of the literary and graphic achievements of independent publishers and their authors. Award winners are chosen from real librarians and booksellers, who are on the front lines everyday working with patrons and customers.
"ForeWord" is the only review trade journal devoted exclusively to books from independent houses.
Since 1998, "ForeWord Reviews" has been one of the publishing industry's most respected print magazine and online review services for readers, booksellers, book buyers, publishing insiders, and librarians. "ForeWord" is published six times a year and each issue reaches an audience of 26,000 librarians and booksellers. As a review service for small and independent publishers, "ForeWord" influences the buying decisions of booksellers and librarians across the United States and Canada. In addition to the magazine, "ForeWord's" website receives nearly 10,000 unique visitors a month. "ForeWord Reviews" employs professional freelance reviewers from all over the United States and Canada.
###