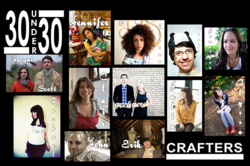 "These incredible crafters have each carved out a niche in the DIY community and serve as role models for aspiring creative entrepreneurs everywhere."
Los Angeles, CA (PRWEB) April 05, 2011
Splashlife, which opened its virtual doors on April 4 to serve as a new kind of membership network for the 75 million young Americans, released its list of 30 outstanding crafters from across the country all 30-years-old or younger. This serves as the inaugural group of what will become a regular monthly feature on the website. Future "30 Under 30" classes will include comedians, educators, and social entrepreneurs.
In honor of National Craft Month, March's impressive list of "30 Under 30: Crafters" includes jewelry makers, fashion designers, bookmakers, furniture makers, and wedding cake topper designers from Seattle to Miami. Each of them creates their craft by hand and has built a business selling their wares.
"We're so excited to feature such a talented group of artisans," says K. Tighe, Splashlife's Executive Editor. "These incredible crafters have each carved out a niche in the DIY community and serve as role models for aspiring creative entrepreneurs everywhere."
Splashlife, the latest endeavor of social entrepreneur Melissa Helmbrecht, provides a network of support and information for a rising generation of young Americans who are facing a time of epic uncertainty. Splashlife's business model rivals the scope and power of the AARP, with a focus on these young people who have no such community or advocacy group.
Through premium content and the tools necessary to help young people navigate the challenges they face, Splashlife provides an online platform enabling its members to connect with their peers and affect change in their communities and the world around them. There is already in place a comprehensive loyalty and rewards program, which delivers exclusive benefits, deals, and discounts on everything from jeans and laptops to health care and airfare. Splashlife has also negotiated exclusive banking solutions tailored to address the financial needs of young people. Rolling out this year are weekly grants for members' career, education, and travel dreams, as well as nationwide concerts, forums, and election events.
For more information on Splashlife and its "30 Under 30: Crafters," visit http://splashlife.com/article/30-under-30-crafters.
# # #