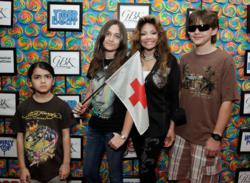 It was our honor to have the Jackson Kids come to our lounge to support our relief efforts for Japan.
Los Angeles, CA (Vocus/PRWEB) April 05, 2011
GBK (gbkproductions.com) - the luxury lifestyle gift lounge and special events company, honored the 2011 Kids Choice Awards Nominees and Presenters with a fun-filled gift lounge on March 31st and April 1st at SLS Hotel at Beverly. GBK, the recipient of multiple BizBash's Award for "Best Gift Bag," partnered Tiger Beat (magazine) / BOP (magazine), the leading teen entertainment magazines, and pampered guests with an exciting array of gifts, refreshments, and a charitable focus.
This year's GBK Kids Choice Awards Gift Lounge certainly evoked "fun" with an array of playful gifts and sweet amenities, but it also took on a charitable focus and many celebrities attended to show support for the event's beneficiary, American Red Cross, and GBK's fundraising efforts for Japanese Disaster Relief Efforts. Among the supporters included Blanket, Prince and Paris Jackson escorted by their Aunt LaToya Jackson, who made a surprise visit to the lounge. Gavin Keilly, CEO of GBK Productions, commented on their visit, "It was our honor to have the Jackson kids come to our lounge to Support our Relief Efforts for Japan".
Upon arrival to the event, celebrity guests stopped to take a photo on the Whirly Pop press wall, provided by Adams & Brooks, Inc., a family owned and operated company producing five basic product lines and specialty lollipops, and were greeted with delicious refreshments provided by SLS Hotel. The Sweet Spot, the original fully dedicated Custom Candy Catering Company in Southern California, created an amazing candy buffet that guests were seen visiting throughout the day. Gimme Some Sugar was on site gifting their custom made whimsical miniature dessert jewelry; and Nahui Ollin, utilizing the Mayan crafting technique of folded recycled paper, provided their signature candy wrapper handbags made from up to 4000 individual candy wrappers.
Other great gifts included: Mobo Cruiser, a luxury brand offering three wheeled cruisers and other stylish innovative products that are designed to improve the lives of customers and encourage a fit and fun lifestyle; Caribbean Living Magazine, providing guests with a 1 week stay in the Caribbean; glitter tattoo kits and certificates for a 2 hour Glitter Tattoo Party by Glimmer Body Art; an ultimate PC collection of over 40 titles from the SEGA Genesis Classic Collection Gold Edition™; Tattoo Sleeves, Slip on tattoo sleeves give you a realistic looking tattoo in an instant; Spin Master LTD, a multi-category children's entertainment company, providing their LIV™Girls which have a new feature where you make them dance to your favorite dance moves!; The indiExhibit, an assortment of indie designed clothing, jewelry, and other accessories; Fine Featherheads, feather hair extensions from the original feather hair extension distributor; MaximumLash, a high-performance lash conditioner that will strengthen and fortify your lashes so they appear longer, thicker and more dramatic than ever; Newhall Labs, Inc., providing a complete collection (8 products) of Monkey Brains hair care along with a custom box of Monkey Brains cookies; Townley Inc., providing a gift bag of their children and "tween" licensed cosmetics such as Hello Kitty Cosmetic Traincase, iCarly, Dora the Explorer, and Disney Princess LipGloss sets; Broadway Nails, gifting a Broadway Nails Gift Bag filled with nail care products and celebrity-inspired artificial nails; YoHa Technologies, known to bring life to toys through technology, providing their Tandars interactive pet; Ballpark Classics, Inc., providing their Ballpark Classics MLB™ Edition – the foosball of baseball which combines old school gaming with skill and strategy to create Baseball's Ultimate Home Game; Improv Electronics, providing their Boogie Board LCD Writing Tablet, a paperless, electronic alternative to memo pads, sketchbooks, sticky notes and other writing and drawing mediums; O'Quinn Clothing, premium vintage tees for men and women; Pura Vida Bracelets, hand-made colorful bracelets from Costa Rica that represent a laid-back lifestyle and benefit an amazing cause; Gabrielle Alexandra Shoes, an ecologically forward thinking design company, providing shoes handmade from recycled tires; Aroma Home, from Slipper Socks to Cuddly Hotties to Computer Screen Wipes, Aroma Home's range of fluffy friends has something for everyone; Ematic, a leading manufacturer of cutting edge affordable consumer electronics, providing their Ematic 4GB Video MP3 Player; shoo!TAG™, a natural insect repellent for people, animals and pets using electromagnetic frequencies to create a chemical-free protective barrier; Hasbro, a branded play company with a world-class portfolio, will be providing their classic games: Bop-It!, Cuponk Le Flush Royale and Rubik's Cube; Colgate-Palmolive, providing their new Colgate® Wisp® Icy Bubble™ featuring bristles to gently clean your teeth and a refreshing liquid-filled bead that releases a burst of Icy Bubble™ flavored freshness; Chaos Headwear, with pulse racing new colors such as Orchid, Emerald, Margarita, Hibiscus and Kangaroo, the collection is sure to evoke a new sense adrenaline; JDNA Inc., providing Gogo's Crazy Bones - small, unique figurines with endless gaming, collecting and learning possibilities, that come in hundreds of colors and designs, each one with a unique name, design, personality and special ability; Nail Garden, an urban retreat where you can experience the best nail spa services, will be on site to provide manicures and gift a selection of their beauty products; and Rockstar Photobooth captured the day with their custom, VIP photo booth service that brings endless entertainment to events.
American Red Cross was the event's exclusive charity. The American Red Cross is a humanitarian organization lead by volunteers and guided by its Congressional Charter and the Fundamental Principles of the International Red Cross Movement, provides relief to victims of disasters and helps people prevent, prepare for and respond to emergencies.
For more information about American Red Cross, go to http://www.redcrossofsantamonica.org
GBK, formerly GBK Productions, is a luxury lifestyle gifting and special events company, specializing in entertainment marketing integration. Formed in 2000 by Gavin Keilly, the company's Founder and CEO, GBK consists of five divisions: GBK Celebrity Gifting, GBK Special Events, GBK Weddings, GBK Charitable Consulting and GBK Marketing/Public Relations. Widely known in the entertainment industry for bringing that little extra something into the Gifting Lounge environment, GBK offers its clients a full range of marketing services. For more information on Gavin B. Keilly (CEO), Carla Domen (VP) or GBK, please go to gbkproductions.com.
###