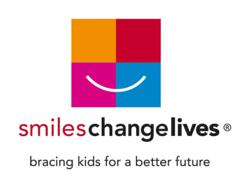 SCL wants to help taxpayers who can't afford braces for their child this year.
Kansas City, MO (Vocus/PRWEB) April 06, 2011
Parents who might be dealing with lower incomes and increasing expenses have a critical decision to make with regard to their precious income tax return. One national charity recommends using that income tax return, no matter the amount, to invest in a healthy smile for a child.
Smiles Change Lives (SCL) is a national nonprofit program that makes orthodontic treatment more affordable for working families in all 50 states. With a recent change to the charity's age guidelines, SCL now serves children ages 10-18 whose combined family income is at or below 200% of the Federal Poverty Level.
With the April 18th tax deadline approaching, families may find some consolation in reviewing their 2010 taxable income – particularly with regard to meeting SCL's financial threshold.
Why should a parent invest their tax return in orthodontic treatment? The cost of braces nationwide averages $5,000. But for qualified families approved for Smiles Change Lives, the cost is only $500. That $500 could make a lifelong positive impact on the life of a child.
"We would like to reach the families who have postponed or given up on braces for their kids," shares Andrea Umbreit, Director of Marketing and Communications for SCL. "Our program makes treatment affordable so that kids don't have to suffer the negative impact of crooked teeth and misaligned jaws during those tough pre-teen and teenage years."
Smiles Change Lives is trying to help taxpayers who want their children to have a healthy, beautiful smile, however their recent financial situation does not permit this expense. Children approved for SCL get full orthodontic treatment with one of the program's more than 400 orthodontic providers nationwide. Even if there are no providers in an area, the agency will recruit additional caring, dedicated orthodontists to meet the needs of families applying to the program.
After filing taxes, parents and guardians are encouraged to determine if their child qualifies financially for SCL by visiting http://www.smileschangelives.org/qualify. Applicants are encouraged to download an application at http://www.smileschangelives.org or request a copy by mail by calling 888-900-3554.
"We currently have more than 900 program openings due to the generosity of our orthodontists and we're motivated to put their good intentions to use," adds Ms. Umbreit. Dentists, nurses, counselors, teachers, social workers and nonprofit organizations are encouraged to nominate a child to this program to help SCL reach the children most in need of care. This is one program that makes tax time an exciting time for children who are searching for their true smile.
###