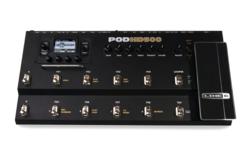 HD amp models deliver superior articulation, tangible touch response and never-before-heard levels of warmth, feel and realism.
Calabasas, CA (PRWEB) April 08, 2011
Line 6, Inc. (line6.com), the industry leader in digital modeling technology for musicians, won top spots in two publications with their revolutionary digital wireless microphone system, XD-V70, the flagship of the Line 6 HD amp modeling line, POD® HD500 and the POD Farm™ 2.0 amp and effect modeling software.
ProSoundWeb/Live Sound International's "Readers' Choice Product Awards" were unveiled at the NAMM show in Anaheim this January, and Line 6 won top honors in two categories: "Wireless Microphone Systems" for XD-V70 and "Signal Processing" for POD HD500.
ProSoundWeb is the world's largest web community for all aspects of the professional audio industry, including live sound, installed sound, recorded sound and industry business trends. Their pro audio community has grown to more than 100,000 unique monthly visitors who view millions of pages each month. ProSoundWeb also presents editorial from its sister publication, Live Sound International magazine, which is recognized as the world leader in covering live and installed sound technology, trends, people and business issues. "Readers' Choice Awards" are unique in that all voting is the domain of the readers of PSW and LSI. From thousands of votes cast, Line 6 beat out possibly hundreds of competing products in their two categories.
XD-V70 digital wireless microphone systems deliver superior vocal reproduction, famous Line 6 mic modeling and four times the signal reliability of other wireless mic systems. Compander-free designs ensure full-range frequency response and a wide dynamic range. Exclusive digital technologies enable XD-V70 digital wireless microphone systems to excel in hostile RF environments.
POD HD500 features a comprehensive collection of digital and analog ins and outs, a 48-second looper and over 100 M-class effects. HD amp models deliver superior articulation, tangible touch response and never-before-heard levels of warmth, feel and realism. Made popular by Line 6 M9 and M13 Stompbox Modelers, M-class effects excel at everything from vintage fuzz to modern pitch effects. Modeled after classic stompboxes and rack gear, or custom-designed by Line 6, M-class effects include tangy choruses, syrupy sweet reverbs, distinctive delays and much more.
POD Farm 2.0 software plug-in took the 2011 "Editor's Choice Award" for the category of virtual amps/effects in Electronic Musician. Electronic Musician's knowledgeable veteran editors focus their expertise on technology and applications for making great recordings. For 20 years, their coverage has included articles about recording gear, electronic musical instruments, music software, multimedia, business tips for working musicians, live performance and overviews of related music technologies. Each January, Electronic Musician editors choose the year's top products.
Comments on the award in Electronic Musician's online emusician.com include, "Flexibility and ease-of-use are the name of the game with Line 6's release of v2.0 of its industry-standard amp-and-effects modeling software."
For more information and complete spec listings, please visit http://www.line6.com.
XD-V70 - $699.99 MSRP
POD HD500 - $699.99 MSRP
POD Farm 2.0 - $49 to $299 MSRP
About Line 6, Inc.
Based in Calabasas, California, Line 6 is a leading manufacturer of guitars, amplifiers, effects, effect processors, recording interfaces and digital wireless systems. The company is world renowned for its studio- and stage-standard gear featuring its patented amp and effect modeling and digital wireless technologies. Line 6 invented digital guitar amp modeling technology in 1996 and is currently the #1 maker of guitar amplifiers. Its award-winning products are used by musicians worldwide and have been featured on countless platinum and Grammy® award-winning titles. Line 6 is distributed in over 60 countries with operations in the United States, the United Kingdom, China and Japan. For more information, visit http://www.line6.com.
# # #