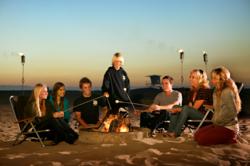 "These additions are sure to make this summer one of our best." - Cheryl Phelps, General Manager
Huntington Beach, CA (Vocus/PRWEB) April 12, 2011
Located in the heart of Surf City USA ®, Hyatt Regency Huntington Beach Resort & Spa has developed an unparalleled list of activities that are guaranteed to create an unforgettable summertime family getaway in scenic Southern California. The luxurious and fun seaside resort is the perfect destination to showcase Southern California coastal living, and experience all that Orange County has to offer.
"Guests have come to expect that summertime at Hyatt Regency Huntington Beach Resort & Spa only gets better," says Cheryl Phelps, general manager at the Southern California luxury resort. "We are extremely excited about all of the happenings taking place at the resort. We have added more exciting Camp Hyatt activities, live music and family focused dining experiences. These additions are sure to make this summer one of our best."
A wealth of attractions and classic beach activities awaits each guest at Hyatt Regency Huntington Beach Resort & Spa, including:
Slyders, A Water Playground
A trip to Southern California won't be complete without a visit to Slyders, the only water park along the Orange County coast. Equipped with three water slides, two fire pits, Shubee's Bar and Café , a children's wading pool, and OC's largest Jacuzzi, this activity pool is fun for kids of all ages. Private poolside cabanas complete with flat-screen TVs, internet access and Shubee's Poolside Bar and Café complete the perfect water adventure escape.
Toes on the Nose
Known for world-class surf instruction, Toes on the Nose also offers kayak tours, bike rentals, paddle boarding and the popular beach butler service. Originating in Hawaii, paddle boarding is fun for the novice and expert, while kayak tours take you on an eco tour through the Back Bay, or through the Harbor for an exclusive look at celebrity homes, yachts and well-known television and film spots.
Camp Hyatt's "Beach Club" and "SophistaSpaKids"
Why should parents have all the fun? With Camp Hyatt, kids get their kicks on vacation too. Energetic and supervised recreation activities are designed specifically for young resort guests, keeping children grouped by appropriate ages to ensure safety and unlimited fun while frolicking on the beach, in the pool, and all around the resort. This summer kids are offered a wide array of new activities including: Water slide relays, cookie decorating sessions, limbo contests, Hoola Hoop competitions, story- telling sessions and bingo all happening daily!
Dig it? Yeah, Dig IT!
Build the ultimate sand castle with Dig IT!, Orange County's talented professional sand castle builders, on the famous sands of Surf City, USA ®. Just steps from the beachfront Andalusian resort, Dig IT! provides fun for the entire family.
Dive In Movie
"Coming Soon" to Hyatt Regency Huntington Beach Resort & Spa are "dive in movies" every Friday night at Mankota's pool. Family friendly flicks by Disney Pixar will be on the big screen, and traditional theater treats like hot dogs and kettle corn will be available to complete this watery take on a movie going experience.
Bringing Back the Blues
The Hyatt Regency Huntington Beach Resort & Spa will be firing up the grills and setting the stage for the annual Blues and BBQ Saturday night summer series at Pete's Sunset Grille, starting July 2 and continuing through September 3. From 7pm to 10pm, the casual-hip, surfer-themed eatery will host a savory southern style picnic feast all while rocking out to some of the hottest blues performers in Southern California. For tickets call (714)-845-4775.
Sunset Splash Party
Join K-EARTH 101 Radio Friday Nights and dance the night away during the Sunset Splash concert series at Mankota's pool. Spend the night sipping signature cocktails while taking in magnificent sunset views of the Pacific, and enjoying a dynamic live performance featuring Motown's greatest hits.
For more information please visit http://www.hyattregencyhuntingtonbeach.com.
ABOUT HYATT REGENCY HUNTINGTON BEACH RESORT & SPA
Located in the heart of "Surf City, USA,", Hyatt Regency Huntington Beach Resort & Spa features 517 tastefully appointed guestrooms, including 57 suites, offering guests sweeping views of the Pacific Ocean. The resort is also home to three restaurants, including The Californian, a AAA Four Diamond Award recipient, the sophisticated Red Chair Lounge, Pacific Waters Spa, as well as more than 100,000 square feet of indoor and outdoor function space. Additional resort amenities include Slyders, a water playground, a tranquil lagoon-style swimming pool, Shubee's and Mankota's Poolside Bar and Cafés, and "The Village," an eclectic shopping experience with everything from pizza to surf memorabilia and fine art. Guests can also enjoy year-round recreational activities such as biking and surfing by taking advantage of the sandy Southern California beaches via the resort's lighthouse bridge. For additional information or to make reservations, call (714) 698-1234 or visit http://www.huntingtonbeach.hyatt.com.
###