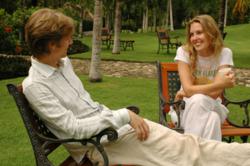 We like to think that Belize, and Chaa Creek, is a honeymoon dream come true.
(Vocus/PRWEB) April 05, 2011
Belize, previously known for beautiful diving along the hemisphere's largest Barrier Reef, its pristine rainforests, and as the heartland of Maya culture, is increasingly attracting attention as an exciting honeymoon destination, according to the managers of the Lodge at Chaa Creek – Belize's premier eco-resort.
"We've been seeing a real surge of interest in Belize honeymoon vacation packages," Chaa Creek general manager Lucy Fleming said, "and using informal surveys of our honeymooning guests, we put together a list of top ten reasons for honeymooning in Belize.
The list, recently posted on the Belize Travel Blog, includes:
One – The beautiful Caribbean location
Guests report that the Caribbean conjures up feelings of romance and adventure, and Belize sits in the very heart of the Caribbean.
Two – The best of Central America
In addition to having a stunning Caribbean coastline, Belize's Central American location makes it a short hop from US and Canadian airports. The ability to combine a Caribbean holiday with Central America's pristine rainforests and exotic wildlife, jungle rivers, ancient Maya temple sites and other attractions rates highly among honeymooning guests.
Three – excellent weather
Belize's weather, with average yearly temperatures of around 81°F (27°C) along the coast and about 69°F (21°C) in the hills of the interior and not much fluctuation between seasons, is perfect for honeymooning any time of the year.
Four - affordability
Belize's close proximity to the US and Canada makes for inexpensive travel, and in-country costs are cheaper than most Caribbean holiday spots. All-inclusive Belize vacations such as those offered by Chaa Creek provide real value for money, and with dining, entertainment and car hire very reasonable, Belize is regarded as one of the Caribbean's most affordable honeymoon destinations.
Five - so much to do
With beautiful Caribbean beaches and a vibrant, pristine forested interior filled with Maya temples and archaeology sites, there is no end of things to do while on honeymoon. Horseback and mountain bike rides or hikes through gorgeous jungle trails, swimming, canoeing, caving or just relaxing in a hammock are just a few of the many things to do during a Belize honeymoon holiday.
Six – a Belizean honeymoon is stress free
Its tiny size, uncrowded ambience and friendly, English speaking populace makes it easy to get around Belize, and the money, pegged two-to-one to the US dollar (which is gladly accepted everywhere), is simple to work out. Honeymooners say the overall ease of experiencing Belize makes for a relaxed yet exotic honeymoon.
Seven – Belize's friendliness
One of Belize's greatest attributes is her people, a multicultural mix of racial harmony and tolerance. Visitors all say they feel very welcome in this friendly little country.
Eight – The ultimate Surf and Turf honeymoon holidays
Only 180 miles long by 70 wide and encompassing everything from the huge Belize Barrier Reef, hundreds of Caribbean islets, white sand beaches along the coast to the misty Maya Mountains, lush rainforest, the Mountain Pine Ridge, rolling savannah, an incredible network of Maya sacred caves and remnants of temples and massive cities, Belize is becoming regarded as the world's premier surf and turf vacation land. All-inclusive surf and turf packages such as Chaa Creek's Rainforest and Reef combinations give easy, affordable access to the best of two very distinct, special worlds.
The ability to wake up to the sounds of parrots and toucans in a vibrant rainforest, take a tour of a fascinating Maya temple, horseback ride a jungle trail, and then finish off the afternoon with a piña colada while relaxing on a beautiful Caribbean island beach after snorkelling in clear turquoise water makes for an unforgettable honeymoon experience.
Nine – variety
The Belize Barrier Reef, the second largest on the planet, is dotted with almost 200 tiny islands and is home to an amazing assortment of marine life and offers some of the best snorkelling, scuba diving, fishing, boating and kayaking in the world. Belize is also filled with ancient Maya temples, sacred caves and the remnants of huge Maya cities. Along with horseback riding, canoeing, biking, birding and hiking, honeymooners can enjoy a range of healthy outdoor activities catering to the lazy and on up to the most extreme.
Ten –Flexibility
Due to the unhurried and uncrowded nature of Belize, resorts and tour operators are generally open to helping honeymooners create their own unique experiences, and this is often remarked upon as a definite plus
"For variety, value for money and sheer enjoyment, Belize must surely be one of the world's best honeymoon destinations. And another plus is that it is still relatively unknown and uncrowded. But the word is obviously getting out, as we're receiving more and more enquiries about Chaa Creek's honeymoon vacation packages. We now offer surf and turf and Maya themed honeymoon holiday packages, and are happy to work with couples to ensure that they have the romantic experience of a lifetime, Ms Fleming said.
"More and more couples are looking to combine a bit of tropical adventure while celebrating their love, and we're responding to this trend by offering more varied packages that cater to a range of interests and budgets. As Belize's first eco-resort, we also pride ourselves on offering a high degree of comfort and jungle luxury, but in a responsible, sustainable manner which contributes to, rather than degrades Belize's precious environment and society. Guests tell us that they appreciate our green approach, so it's a win-win situation for visitors and Belize.
"We like to think that Belize, and Chaa Creek, is a honeymoon dream come true," Ms Fleming said.
For more information about The Lodge at Chaa Creek, toll free USA 877-709-8708, UK 0-207-096-0329, Belize 501-824-2037 reservations(at)chaacreek(dot)com or visit the web site at http://www.chaacreek.com.
###