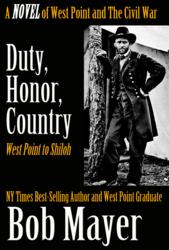 "'Duty, Honor, Country' is history told both epic and personal so we can understand intellectually what happened; but more importantly, feel the heart-wrenching clash of duty, honor, country and loyalty." -- Bob Mayer, Author
Seatle, WA (PRWEB) April 06, 2011
In 90 percent of the major battles of the American Civil War, West Pointers commanded on opposing sides. How did men who swore the same oath and attended the same Military Academy, end up fighting each other? And did the Civil War last so long and hold the record as the bloodiest war in our history until World War II because the leaders on both sides had all been trained in the same place?
These are the questions best-selling author, West Point Graduate and former Green Beret, Bob Mayer, sought to answer in his first Civil War novel, "Duty, Honor, Country," which will be published on April 12, 2011, the 150th anniversary of the firing on Fort Sumter that started the Civil War.
"Before they were Civil War commanders on opposing sides, these men swore oaths, both personal and professional. As they went from classmates to enemies, they carried more than rifles and sabers into battle," said Mayer. "They had friendships, memories, children and wives. They had innocence lost, promises broken and glory found. Most of all, they were fighting for country, for a way of life and for family."
The first of a series, "Duty, Honor, Country," begins in 1840 at West Point and culminates in the epic battle of Shiloh, where the United States had more casualties in one battle than in all previous wars combined, and where the face of warfare changed forever.
Mayer combines actual events and well-known Civil War commanders like William Tecumseh Sherman and Ulysses S. Grant with a handful of fictional characters who rub elbows with those who would become great and those who would become infamous. His fictional characters are swept up by the tide of history and their factual contemporaries.
This first book will be followed by additional books that take the real and fictional characters through the Civil War and beyond, into the Plains Wars and further.
"'Duty, Honor, Country' is history told both epic and personal so we can understand intellectually what happened; but more importantly, feel the heart-wrenching clash of duty, honor, country and loyalty," said Mayer. "And realize that sometimes, the people who changed history, weren't recorded by it.
"As they say at West Point: 'Much of the history we teach was made by people we taught.'"
For more information on "Duty, Honor, Country," visit Bob Mayer's West Point Civil War Blog.
About Bob Mayer, USMA '81, Infantry and U.S. Special Forces
New York Times bestselling author Bob Mayer has over 40 books published. He has over four million books in print and is in demand as a team-building, life-change, and leadership speaker and consultant for his Who Dares Wins: The Green Beret Way concepts. He is the Co-Creator of Who Dares Wins Publishing.
Born in the Bronx, Bob attended West Point and earned a BA in psychology with honors and then served as an Infantry platoon leader, a battalion scout platoon leader, and a brigade reconnaissance platoon leader in the 1st Cavalry Division. He then joined Special Forces and commanded a Green Beret A Team. He also served as the operations officer for the 2nd Battalion, 10th Special Forces Group (Airborne) and with Western Command Special Operations in Hawaii. Later he taught at the Special Forces Qualification Course at the John F. Kennedy Special Warfare Center and School at Fort Bragg, the course designed to train new Green Berets. He wrote the Gettysburg Staff Walk for the officer committee. He also lived in Korea where he earned a Black Belt in Martial Arts and in Tennessee where he earned a Masters Degree in Education from Austin Peay State University with an additional concentration in history.
Bob draws on all of these experiences to write his novels and his nonfiction books, including "WHO DARES WINS: The Green Beret Way To Conquer Fear & Change" and "The Novel Writer's Toolkit: A Guide To Writing Great Fiction And Getting It Published." He is an adjunct faculty member at the University of Washington, and also teaches novel writing and improving the author via his Warrior-Writer program.
Bob lives on an island off of Seattle. For more information see Bob Mayer's Website. the Who Dares Wins Publishing Website and The Write It Forward Blog.
###