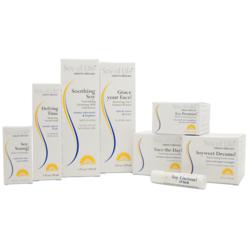 "It is now clear that the ability of natural soy to deliver multiple benefits to the skin plays a lead role in high performance skin care." Jeanette Graf M.D. Board-certified Dermatologist, NY
Plymouth, MA (Vocus/PRWEB) April 15, 2011
One thousand eight hundred twenty five days, sixty months or five years is a long time no matter how it's counted. That's how long Soy of Life nature's skincare has been in business and it's time to celebrate that milestone.
Soy of Life nature's skincare was created by Sherry Kelly five years ago when she discovered through research how great soy is for the skin. Soy has been shown to strengthen the skin's connective tissue to improve the elasticity of the skin and smooth fine lines to reverse the signs of aging. Antioxidant-rich Soy can also help fade age spots and even out skin tone. Soy has been called a "smart" moisturizer because of its ability to selectively provide moisturization to dry areas while reducing oiliness in others. Soy also gives the skin a natural radiance or glow. Topically applied Soy is one of the best actives for aging skin and does not exert any hormonal effects or affect the body internally.
Sherry's goal was to create a highly effective natural skin care line using vitamin-E rich Soy as the base and combine it with premium botanicals, natural actives and essential oils that when used will produce visible results. Five years of glowing customer feedback has shown that Sherry succeeded with her goal.
Soy of Life nature's skincare is a premium skin care line without the premium price. Sherry likes to say that Soy of Life nature's skincare is Affordable Luxury because the company uses the "best of the best." The ingredients used are found in other skincare products costing up to hundreds of dollars more. Soy of Life's natural skincare line is extremely well priced, and as part of the companies 5th year anniversary there are several specials and free shipping offers to make purchasing them even more affordable, which is great in these tough economic times.
# # #