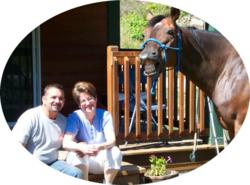 Your life story adds a deeper layer of meaning when combined with photos… much more meaningful and fun than simply listing facts and dates!
(Vocus/PRWEB) April 05, 2011
Writing a life story need not involve the hassle of writing and editing, technical challenges, and design issues involved with writing a book.
Recently released, the "All-in-One" Life Story Book FREE Kit gives everyone a chance to write their life story in bite-size pieces through a guided tour of their life. Anyone can publish the life story book in about 4 weeks, working just 5-10 minutes a day and take advantage of all inclusive kit. You can do it yourself or Team Family Online will do it for you!
For folks who are leading a very hectic busy lifestyle and still want to express their heart, sharing their valuable life experience, Susan McKenzie put together special Living Legacy packages that are custom tailored to her clients' unique needs.
According to the founder of Team Family Online, Susan McKenzie, "When a beautiful Life Story Book arrives in the mail, I'm just as excited to see a client's book in print as my own! It's thrilling to see these Life Story Books – in full-color and with glossy pages… big books, small books, books with lots of photos, books with lots of stories… each one as unique as its owner!"
As a parent herself, McKenzie sees the importance of creating a LIVING FAMILY LEGACY for grandchildren and future generations in the form of a gorgeous, heirloom-quality Life Story Book that will be treasured for hundreds of years!
Susan's goal today is to help her readers to document their life story in a positive way. While many people find life story writing to be therapeutic, it's more than that - it is a vehicle to convey values, beliefs, morals, as well as a person's life history.
As Susan McKenzie also added, "Your life story adds a deeper layer of meaning when combined with photos… much more meaningful and fun than simply listing facts and dates!"
Photos lose quality with age. Videos and DVDs can be damaged. With a life story book photos can be stored digitally and in print. With our unique system your photos and stories can be easily updated as needed with modern systems in technology."
Living Legacy Packages cover the following:
-Quick Start System available to jump start your customized Life Story Book – you supply the ready-to-publish stories, photos, etc and Team Family Online organizes, designs, and publishes for you.
-Customized Heirloom Quality Book Included. Hardcover or softcover.
-You own the copyright – you have the ability to edit and approve the book before it's published.
-Includes cost of production, publishing, shipping, and handling. No hidden fees or expenses.
-Private consultations and email correspondence.
-MP3 recordings of life story interviews.
-Opportunity to have story written for you.
Much more…
Susan McKenzie strongly believes there has never been a better time in history to record the life story of you and your loved ones and that every family deserves to create a living family legacy. Get to know one another in a fun and deeply meaningful way!
Susan's passion for serving people has impacted many people's lives and helped them to express their heart, share their stories, and create lasting bonds with their families.
To claim your gift, a free kit (Valued at $149) visit Susan McKenzie's website at http://www.teamfamilyonline.com
For serious individuals who want to jump start a customized Life Story Book grab one of Living Legacy Packages at http://teamfamilyonline.com/living-legacy-packages
For those who want their stories professionally written, Susan also provides ghostwriting services: http://teamfamilyonline.com/ghost-writer
For media inquiries: Susan McKenzie is available for the interviews, speaking engagements and expert quotes.
Contact Susan McKenzie
Toll Free: 888-712-2485
###