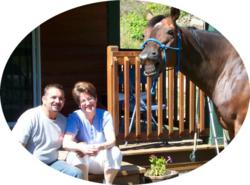 A life story book is a family heirloom that will be treasured for many generations!
(Vocus/PRWEB) April 05, 2011
Writing a life story is no longer complicated thanks to the creator, Susan McKenzie. Recently released, the "All-in-One" Life Story Book Kit allows anyone to write their life story in bite-size pieces through a guided tour of their life. Anyone can publish a customized life story book in about 4 weeks, working just 5-10 minutes a day and take advantage of all the all-inclusive kit.
With the included step-by-step blueprint you'll find it's easy to do it yourself, or if you prefer, Susan McKenzie's team will do it for you! You will have plenty of publishing options to choose from!
According to the founder of Team Family Online, Susan McKenzie says, "When a beautiful Life Story Book arrives in the mail, I'm just as excited to see a client's book in print as my own! It's thrilling to see these Life Story Books – in full-color and with glossy pages… big books, small books, books with lots of photos, books with lots of stories… all different kinds!"
From losing everything due to divorce and starting all over, Susan McKenzie began a quest to bring family stories in one place and learned to listen to people's hearts. Being a strong believer in preserving family experiences as the most valuable asset we have, she came up with the idea of a simple kit that would give anyone an opportunity to write and to capture precious memories, creating a living family legacy.
Susan's goal today is to help her readers to document their life story in a positive way. While many people find life story writing to be therapeutic, it's more than that - it is a vehicle to convey values, beliefs, morals, as well as a person's life history.
A life story book is a family heirloom that will be treasured for many generations!
As Susan McKenzie also added, "Your life story adds a deeper layer of emotion when combined with photos… much more interesting than simply listing facts and dates! Photo quality diminishes with age or could be lost due to fire or other life events. With a life story book the photos can be stored digitally and in print, ensuring your valuable memories are preserved for many generations."
The "All-in-One" Life Story kit includes the following:

Free online software to create your family tree and explore genealogy.
Step-by-step blueprint so simple a 12-year can create a life story book!
Professional quality videos, slide-shows, collages, free software!
"365 Life Story Interview prompts" - Our easy fill-in-the-blank pages make it simple and fun to draw out a life story, whether your own or a loved one's story.
New! Sample life stories from the "Your Story Matters" community!
Free online publishing software, including templates and support!
Permanent digital and print storage of your photos and stories!
Susan McKenzie strongly believes that there has never been a better time in history to record your life story. Everyone deserves to share their story. To be known and understood is a basic human need.
Get to know your loved ones in a fun and deeply meaningful way! You deserve your very own life story book!
Susan's passion for serving people has impacted many people's lives and helped them to express their heart through sharing life stories.
To claim your gift, a free "All-in-One" Life Story Book Kit (Valued at $149) visit Susan McKenzie's website at http://www.teamfamilyonline.com … plus get FREE consultation - for limited time only- when you register for your free kit.
For serious individuals who want to jump start a customized Life Story Book grab one of Living Legacy Packages at http://teamfamilyonline.com/living-legacy-packages
For media inquiries: Susan McKenzie is available for the interviews, speaking engagements and expert quotes.
Contact Susan McKenzie
Toll Free: 888-712-2485
Publicist Tatyana Gann at 615.354.7625
###