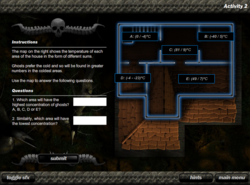 Tell me and I forget. Teach me and I remember. Involve me and I learn.
- Benjamin Franklin
United Kingdom (PRWEB) April 06, 2011
How does one capture the imagination of today's learners with a discipline that many of them have already categorised as 'boring' by their 11th birthday? How can such a discipline hope to compete with other, more 'glamorous' subjects - let alone with all of the other distractions that vie for students' attention such as video games and music?
'Ghost Hunter Academy' is Learnalot's most recent answer to the above questions, and in it learners assume the role of a new recruit looking to make a name for themselves within this elite organisation.
No sooner has the learner completed their first mission briefing are they dumped at the gates of a scary-looking house and told to cross the lawn to get into the house without being seen by the spirits within. A few trigonometry questions later and they have arrived at the front porch.
The resource continues by taking the learner into the house where they will perform reconnaissance on their unsuspecting foes before taking them out one by one with their specialist ghost catching equipment - using different maths skills and procedures along the way.
With 10% of the UK's schools already signed up just weeks after launch Learnalot is proving to be a big hit with teachers, parents and students alike. Since starting work on the portal just 13 months ago the company has already developed 18 activities and 34 games, with each activity lasting 40-60 minutes on a single play-through in a classroom environment.
Whether ridding a haunted house of ghosts, saving the world from a giant asteroid or recapturing escaped convicts, Learnalot's resources all fuse maths with video game-style graphics and music to create role-based scenarios where the student is tasked with solving a particular problem using maths from all around the curriculum.
Performance is tracked for teachers and parents to monitor and scores are displayed on ranked leaderboards, promoting friendly rivalry between classmates and peers from around the world. With improving their position on the global leaderboards a powerful incentive, Learnalot's learners repeatedly play through the activities and games in order to perfect their skills and shave valuable seconds off their times.
The learner is always presented with a fresh problem as the questions and underlying data are randomly generated, so the process is always about perfecting skill and increasing knowledge and never about simply remembering previous answers.
Learnalot allows teachers to forget about preparation and marking and focus on delivering the best possible lesson as each resource also comes with supporting worksheets, teacher's notes and lesson plans - which have all been prepared by experienced teachers.
There is a demo resource available on the website complete with supporting documents should prospective users wish to sample the software before signing up.
Those who sign up can do so for free by just completing an application form at http://www.learnalot.com/free, while those who become subscribers also gain access to exclusive premium content - with a 20% subscription discount running until the end of April.
# # #