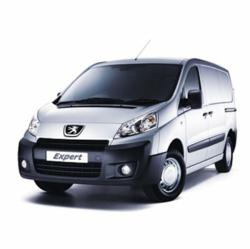 With new businesses forming, this old stereotype is rapidly evolving to include a majority of professional, courteous drivers
Bolton, Lancashire (Vocus/PRWEB) April 07, 2011
The amount of White Van Drivers on our roads has increased 40% over the last decade, with 2.5 million white vans and their drives contributing £35 billion to the UK economy, according to results from recent AA research. This increase is partially due to the formulation of small businesses, and the availability of government funded grants allowing entrepreneurs to acquire commercial vehicles via van contract lease, van finance lease and van lease purchase plans.
The title 'White Van Man' was originally coined by radio presenter Sarah Kennedy and has since been used as a derogatory term to describe van drivers renowned for their typical tattooed, alpha male exteriors and their aggressive, sometimes intimidating driving style.
'The traits of the stereotype are for me, as a fellow motorist, rapid gear changes and excessive speeding,' says Roy Ganley, of First Step Leasing in Bolton, providers of Vauxhall Vivaro vans and van leasing services for various different companies. 'Although it's not the driver of every white van on our roads, unfortunately it's a stereotype perpetuated by the media which is often pre-existing in our minds when we see a white van in the traffic ahead.'
Unfortunately, it appears that the minority of white van men who do drive carelessly often tarnish the driving reputation of their peers. In a report issued by Surrey Police as a result of their Drive SMART Initiative: 'confusion by van drivers over the correct speed limit for their vehicles means that some are taking risks by driving too fast' after some commercial vehicle drivers claimed that they were 'unaware that they could not travel at the same speeds as cars. But the law clearly states that transit type vans can only travel at a maximum of 50 mph on a single carriageway and 60 mph on a dual carriageway – 10mph less than cars.'
'This is a particular concern as some van drivers will only be temporary as they will acquire their vehicles via a van leasing arrangement,' says Roy Ganley. 'It's important that drivers understand the difference in regard to the rules between Citroen Relay vans, for example, and their usual family car.'
'With the boom in internet shopping over the last five or ten years there has been a huge increase in the number of vans carrying goods on the roads. However, it seems some van drivers assume they can drive at the same speeds as cars.' Says Surrey County Council Leader, Dr. Andrew Povey 'The lower speed limits have been around for more than twenty years and I would urge all van drivers to make sure that they know how fast they are allowed to travel.' Writing for The Guardian, Transport Correspondent Andrew Clark reported that studies have shown that 'van drivers could make 59% fewer gear changes and cut fuel consumption by 10% annually. This would save £500 and cut a quarter of a tonne in carbon emissions for each van'.
But does the average driver of a white van deserve such a negative stereotype? The Oxford-based Social Issues Research Centre aimed to 'put aside received wisdoms and the 'everybody knows' conclusions' to investigate the true behaviours of this often misunderstood demographic of white van men in their 'natural habitats'- petrol stations, 'greasy spoons' and motorway services- whilst travelling around in a white van themselves, and the results were somewhat different to the widely held expectations.
In terms of driving habits, 75% of WVM stay within their own locality. In the words of the SIRC, 'he is really a 'townie', and he often knows the local roads and streets better than some taxi drivers. This gives him a sense of security- in traffic he is on his own 'turf'. And like other species of animal, he feels most confident in these conditions. So, a note of caution. When you obstruct the passage of a white van you are often preventing the driver travelling freely on what he perceives to be his road'.
Roy Ganley has several years' experience in the van leasing and van contract hire industry. 'It is also worth considering that in the results of the SIRCs' research, there is no difference between white van men who are driving lease purchase vans that are their own, their employers' contract hire vans or whether that driver has privately leased a van for a few hours.'
The Social Issues Research Centres' Renault Master White Van Man Study had lots of positive praise for the white van men however, including that they were held in a very high regard by the emergency services. 'It is he, more than any other driver, who first notices the flashing lights and sirens and makes room for vehicles to get through...the relatively high driving position in vans, coupled with the need to use the large rear view mirrors quite regularly, mean that van drivers are more likely to spot the approach of the emergency services.'
The study concluded by recommending that schedules for fleet and courier drivers be regulated to ensure that drivers can complete their drops safely and timely without the need for excessive speeding; that companies are given incentives to provide advanced driving courses for their employees and further extensive research be carried out to find specific ways to encourage better van driving.
Regarding van drivers themselves, the SIRC recommended that drivers acknowledge acts of courtesy by other motorists and even paint their vans a different colour in order to dispel the white van driver stereotype.'In my line of business, supplying hire purchase vans and finance lease vans, if you're new to van driving, don't be put off by the white van man stereotype, either being intimidated or worrying about other motorists viewing you in that way. With new businesses forming, this old stereotype is rapidly evolving to include a majority of professional, courteous drivers. And there are plenty of advanced driving courses available privately should you wish to brush-up your skills before you take to the roads in your own branded company vehicle.'
Interested in van leasing, contact First Step Leasing at http://www.firststepleasing.co.uk.
# # #