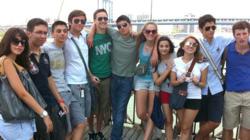 ...every year I watch in amazement as the students not only develop their engineering, science and design skills but life-long friendships.
Hoboken, NJ (Vocus/PRWEB) April 05, 2011
Two innovative new summer programs, combined with two long-standing programs, designed specifically for high school students
Stevens Institute of Technology launches The Stevens Summer, which features a slate of programs designed for high school students to experience life at Stevens during the summer after their sophomore or junior years. Two innovative new programs have been added to round out the long-standing and successful offerings.
"The Stevens Summer has had a long history of success with programs such as ECOES, where bright high school students from all over the world converge to get a taste of engineering, science, computer science and college life," said Maia Hadidi, director of summer programs at Stevens. "The program has been around for more than 30 years and every year I watch in amazement as the students not only develop their engineering, science and design skills but life-long friendships."
Exploring Career Options in Engineering and Science (ECOES) and Euclid have a long history at Stevens, with nearly 250 students participating in these programs each summer. In the ECOES Program, students live on campus for two weeks and learn first-hand what it's like to be a scientist or engineer. They participate in hands-on research competitions, site visits to major companies, and enjoy the sights of New York City. The Euclid Program offers online courses in Physics, Math, and Computer Science so that high school students can get ahead and earn credits by taking college-level courses.
New this year are programs in multimedia production and business. Students interested in visual and audio arts will benefit from the Multimedia Production Intensive, where they will learn the ins and outs of audio engineering and videography. All productions and lessons are held in a state-of-the-art recording studio, a Media Arts Center (MAC) lab and a green screen room; students will work to create a soundtrack and produce a video as final products of the program.
During the Business Summer Intensive, students will be exposed to marketing, finance (including Quantitative Finance), management and business law. The program will provide a solid foundation for students who wish to have a greater understanding of business operations as they explore this course of study as a possible major in college. The program will also include a corporate site visit to a local Fortune 500 company.
"We are very excited to be expanding our summer program offerings to provide the same great experience for students interested in careers in business, multimedia production or the music industry," stated Daniel Gallagher, Dean of University Admissions. "The Stevens Summer is an excellent way to make your summer count. The programs are engaging and memorable, and they also make your college application distinct."
For more information please visit The Stevens Summer program site.
About Stevens Institute of Technology
Founded in 1870, Stevens Institute of Technology, The Innovation University™, lives at the intersection of industry, academics and research. The University's students, faculty and partners leverage their collective real-world experience and culture of innovation, research and entrepreneurship to confront global challenges in engineering, science, systems and technology management.
Based in Hoboken, N.J. and with a location in Washington, D.C., Stevens offers baccalaureate, master's, certificates and doctoral degrees in engineering, the sciences and management, in addition to baccalaureate degrees in business and liberal arts. Stevens has been recognized by both the US Department of Defense and the Department of Homeland Security as a National Center of Excellence in the areas of systems engineering and port security research. The University has a total enrollment of more than 2,350 undergraduate and 3,600 graduate students with almost 450 faculty. Stevens' graduate programs have attracted international participation from China, India, Southeast Asia, Europe and Latin America as well as strategic partnerships with industry leaders, governments and other universities around the world. Additional information may be obtained at http://www.stevens.edu and http://www.stevens.edu/news.
###